These cool woven houses made of tree branches and twigs were created by the artist Patrick Dougherty, who is based in North Carolina.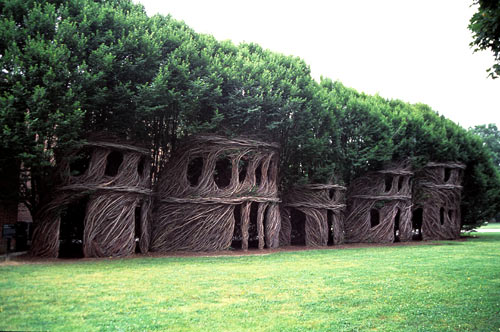 Around the Corner
University of Southern Indiana, New Harmony Gallery, New Harmony, IN, 2003.
Photograph by Doyle Dean.
Doughterty has sculptures on exhibit all around the country, some temporary, and some, permanent. Doughterty has sculptures on view right now at the Spencer Museum of Art, at the University of Kansas, in Lawrence, Kansas; the Morris Arboretum at the University of Pennsylvania, in Philadelphia (shown in top photo); the Bay Area Discovery Museum, in Sausalito, California; and here in New York at the Brooklyn Botanic Garden. (See the complete list here.) In fact, the Brooklyn Botanic Garden is offering a drawing class in March based on their Doughtery sculpture.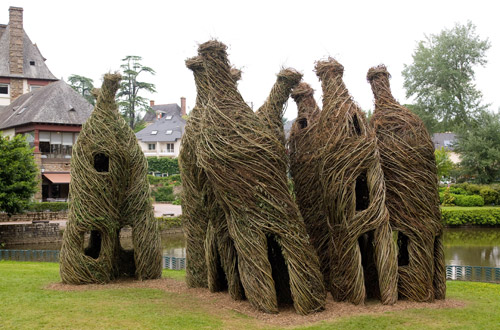 Sortie de Cave
Jardin des Arts, Chateaubourg, France, 2008.
Photography: Charles Crie.
Made up of swirls of woven branches, these structures look like they belong in a fariy tale and they change and morph with the seasons. Somehow, we've never seen the one at BBG, but we'll definitely be making a visit to it soon.