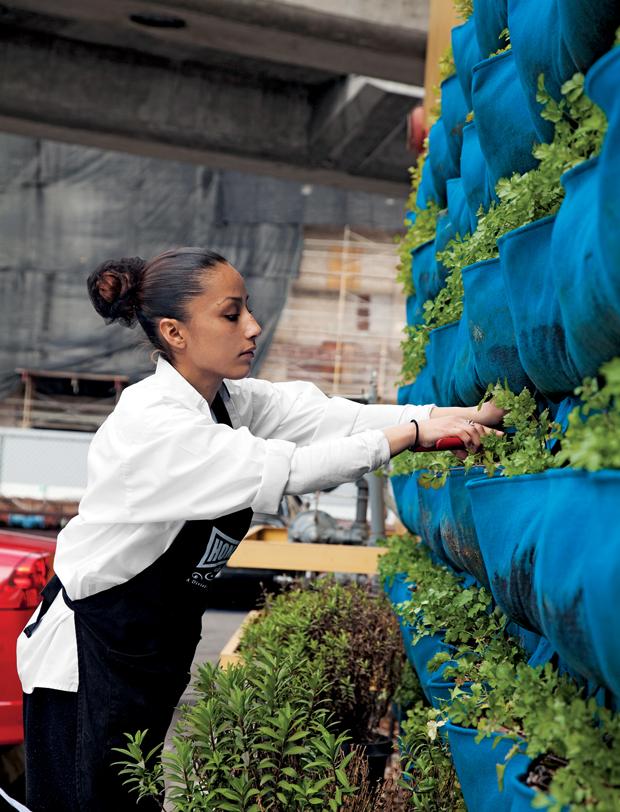 Janet Loera clips cilantro from the vertical gardens at Homegirl Cafe.
Janet Loera works as a line cook at Homegirl Cafe now, but a few years ago, fresh out of jail, she spent most of her time in one of the gardens that provide this downtown Los Angeles restaurant with freshly harvested organic produce. "I was one of the first girls in the garden," says the 21-year-old, cutting cilantro from a hanging herb garden outside the cafe. "That's where I started."
Homegirl Cafe got its start in 2005 in Boyle Heights, on the border of east Los Angeles. Staffed mainly by ex-convict women, it's the distaff offshoot of Homeboy Industries, the gang-intervention organization begun in 1988 by Jesuit priest Father Greg Boyle. Now a national model, Homeboy centers on a simple motto: Nothing stops a bullet like a job.
"In the garden, it's like you have to take your time," she says. "It's slower, but it's good."
Homegirl designed its farm-to-kitchen program to teach trainees to work in both the front and back of the cafe, and it also sends them to the half-dozen gardens around town that supply the restaurant with fruit and vegetables. The growing areas vary from plots at Solano Canyon Community Garden, next to Dodger Stadium, to a space on the grounds of Dolores Mission in the Boyle Heights parish where Father Boyle started Homeboy. Fruit trees fill containers at Farmlab/Metabolic Studio, down the street from Homegirl at Los Angeles State Historic Park, a former toxic site whose soil is slowly being reclaimed and healed.
"We've got tons of broccoli, kale, tomatoes," says Sarah Leone, the farm-to-kitchen coordinator. "And, soon, we'll be making jam."
The restaurant's menu is based on Mexican family recipes. Spinning off influences from Oaxaca to Jalisco, Texas to Salvador, head chef Pati Zarate interprets all with a Los Angeles slant that mixes nouvelle and home-style with a dash of vegetarianism.
These days, Janet Loera likes working the line in the kitchen. The hours go by fast and you get to talk with your girls and have a laugh, she says. But when Sarah Leone needs help transplanting, weeding, or harvesting, Loera will be the first one in the field. "In the garden, it's like you have to take your time," she says. "It's slower, but it's good."
Homegirl Cafe

Address: 130 W. Bruno St.
Los Angeles, California 90012
Phone: 213-617-0380
Website: homegirlcafe.org

This article was first published in Garden Design
June 2012