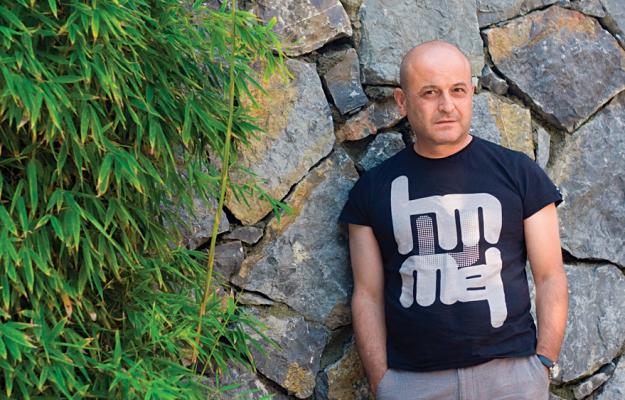 Photo by:
Taner Melih Tanyeli
As artist, architect, and advocate, garden designer Ergil encourages Turks to revisit their nature-centered history, even as green spaces fall prey to modernization.
Through a tunnel of bowed mimosas, Turkish garden historian and designer Gürsan Ergil points to a tiny smudge in the Sea of Marmara. "That's where Ottoman ministers were hanged after the 1961 coup," he says. Ergil is leading me around Büyükada, one of the Princes' Islands off the coast of Istanbul, and he's not afraid of sprinkling in the (occasionally gruesome) anecdote.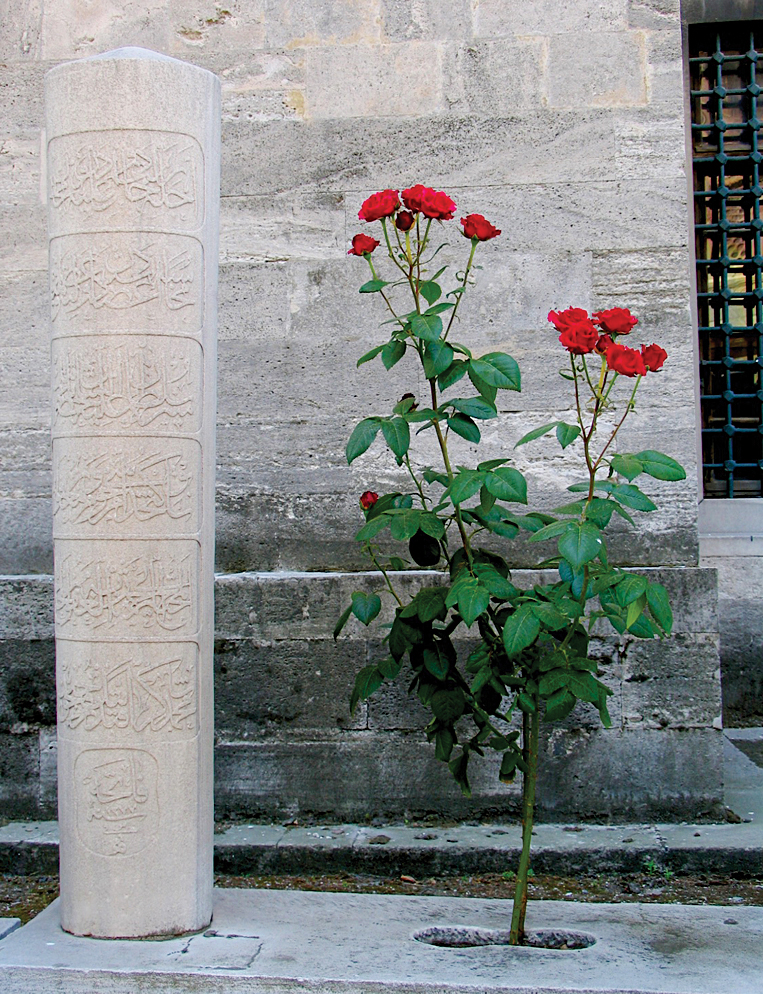 Ergil uses sculpture like this 16th-century tomb post in his landscape design.
It was here on this stuck-in-time Shangri-La—where horse-drawn carriages and bikes are the only modes of transport—his love of gardens was born. "In my grandmother's garden, we had big lunches under the shade of a monumental fig, and my cousin and I would sneak out to spend whole nights under it," he recalls. Last summer, Ergil initiated tours of the islands' historic villas and their secreted gardens; he is writing a "half-touristic, half-academic" book about them—a couplet of unprecedented, awareness-raising endeavors.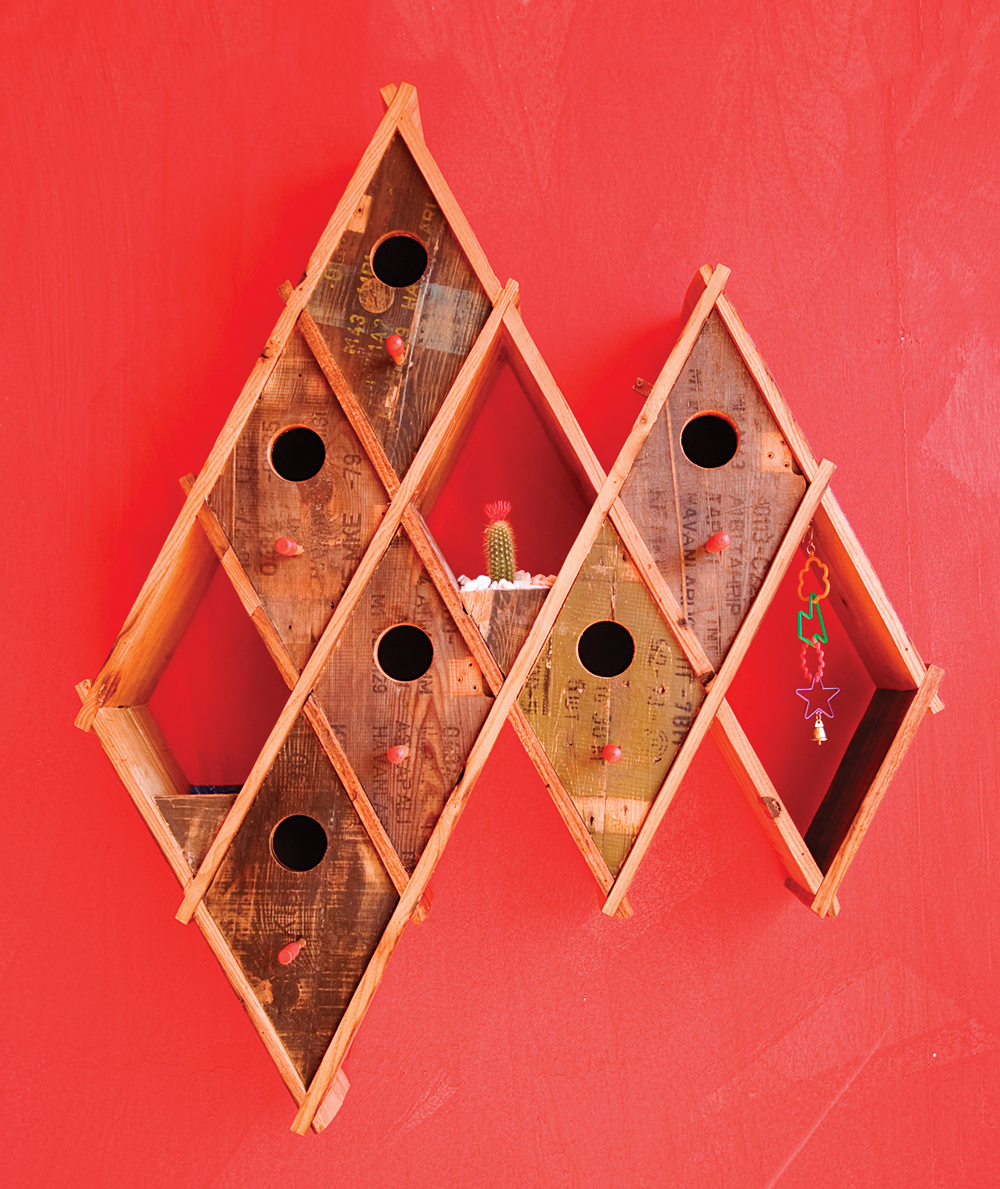 Gürsan Ergil's furniture designs use reclaimed materials, such as this birdhouse from ammunition boxes.
With the serenity of a metronome and an artist's penchant for abstraction, Ergil is an unlikely activist. But after six years studying at Harvard's Arnold Arboretum, he returned to Istanbul alarmed at a construction boom that left each citizen an average of one square yard of greenery. That grim statistic inspired him to present "mobile gardens" — portable green spaces carried like a backpack or pulled by a flatbed—at last year's Istanbul Design Week. Though seemingly tongue-in-cheek, these "extreme solutions" not only shed light on a current urban dilemma but echo a 16th-century Ottoman footnote: During special celebrations (say, a prince's circumcision) gardeners would parade flowery plots on wheeled carts before the young royal. "I am trying to develop a contemporary, sustainable Turkish garden style inspired by traditional garden culture," says Ergil. While he calls himself a "pioneer" in this respect, he admits he has "a long way to go to achieve this goal."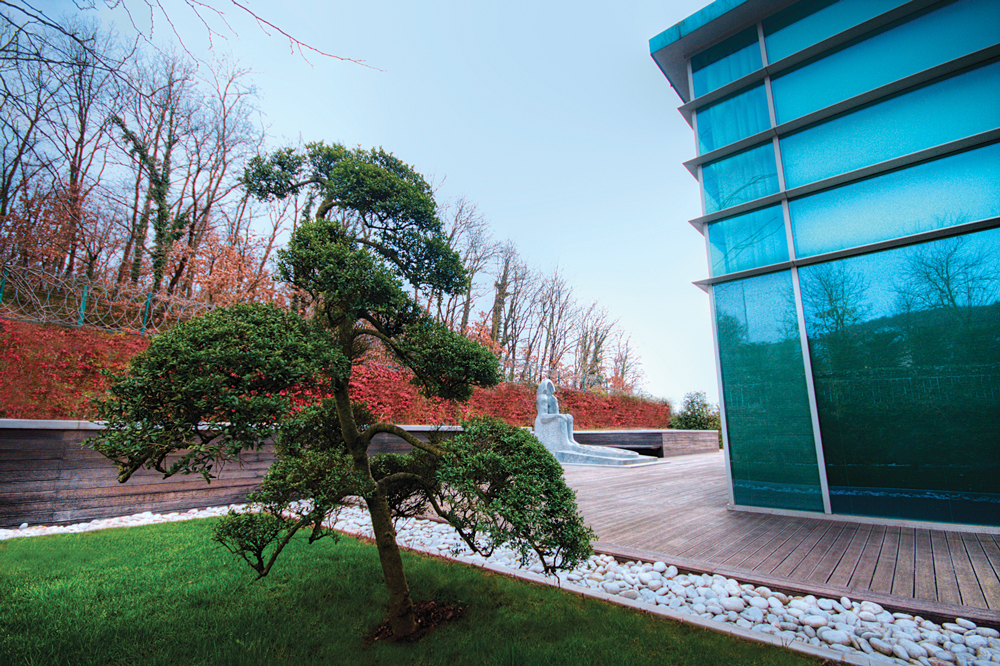 Modern Turkish sculptor Mehmet Aksoy's piece stands in one of Ergil's landscapes.
Meanwhile, at his design studio, Ergil is busy crafting handsome furniture from reclaimed wood ("Turkish gardens are meant to be lived in, not looked at," he states, repeatedly) and planning sustainable gardens for clients that include posh residences along the Bosphorus and the skyscrapers forging the city's new modern silhouette. "Garden design here is waking up from 50 years of sleep," he says. "It is a baby in the crawling stage. But people are starting to think about reintroducing nature in their lives, and I am doing my best to help."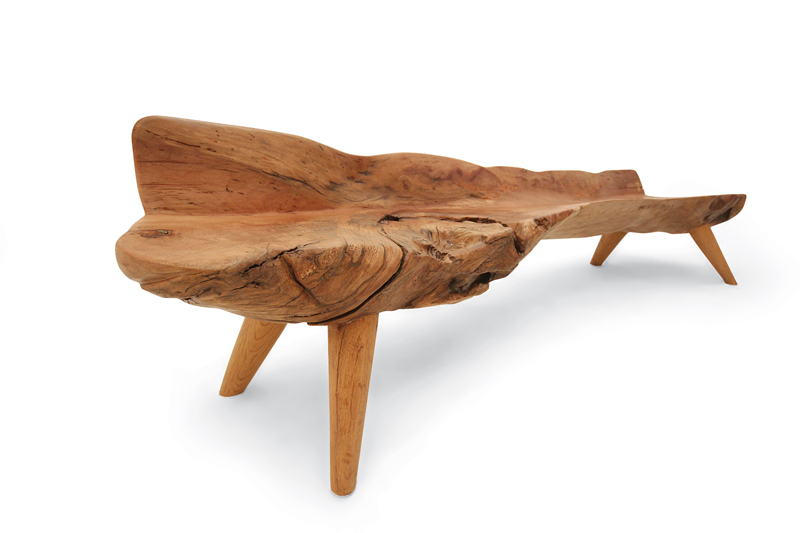 Ergil's bench made from old vats.
All photos by Taner Melih Tanyeli.