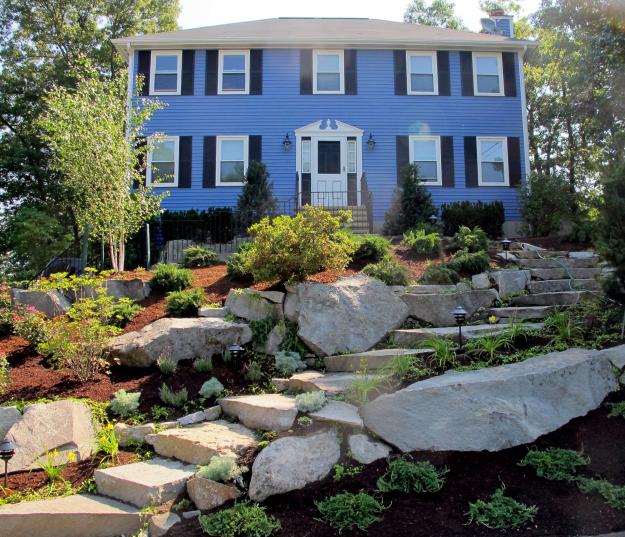 Photo by:
Olde New England Granite
The miller woke early. The old quartz millstone needed dressing, a tedious process of sharpening the stone by hand. The constant grinding of the grain had worn the stone and it would take several days to sharpen it. Luckily, the miller's profession didn't require hard physical labor as was common in the 18th century. His water-powered mill was considered fully-automatic, a modern marvel for its time. His job was to observe and monitor the grinding of the grain, frequently smelling to make sure it wasn't burning, and feeling the texture of the fine particles as they turned into flour. The miller, in essence, had to keep his nose to the grindstone.
Mills such as this now exist as historic sites throughout New England. Their 200-year-old millstones still whir and grind, as they echo their history to visitors and school groups. But many of the area's old buildings, cobblestone roads, and dilapidated barns are being removed, making way for 21st century structures. As part of a larger movement in the green industry for recycling and reusing, historic pieces of granite, brick, and cobblestone are being rescued from entering landfill facilities. They're finding new life in gardens and landscapes throughout the U.S.

Olde New England Granite's gallery of materials.
Olde New England Granite is a Massachusetts-based company that offers reclaimed, historic hardscape products. At their two-acre granite gallery, vintage cobblestones from old New England streets, historic pier blocks from renovated bridges and Franconia Notch parkway granite from Northern NH are just a few of the types of rescued materials they supply.
"The reclaimed materials bring a piece of history in a variety of ways to residential and commercial properties," says Biz Reed, Executive Vice President/COO of Olde New England Granite. Other types of materials at his gallery include foundation block from several historic Boston buildings, along with aged and weathered granite from a long defunct quarry. Antique curbing, pillars, hand split posts, window lintels, and granite monuments are nicely arranged, and well organized for easy selection.
"Architects are now specifying antique granite for use on hillside retention projects, as garden accents, for retaining walls and for paving applications, and much more," he says. "Some designs we're seeing call for the old quarried material to be modified as a water feature, as stepping stones, entryways, driveway approaches, and even as fence pieces."

Pieces of historic materials are repurposed as fencing and driveway approaches.
Most of Reed's materials are sourced from New Hampshire, Maine, Vermont, Massachusetts, and New York. "It's the perfect material for people looking for that venerable 'New England' look," he says. "Landscape architects have also become particularly fond of it because of the LEED benefits."
The historical significance of the materials alone are sure to improve property values. How often can you literally take home a piece of history. If you had a piece, what story would your garden tell? Maybe it's from the mason who laid that bridge stone during the harsh winter in 1805, or from the cobblestone setter who placed these stones in an old colonial road. Or maybe it's from the miller.
To learn more, visit www.oldenewenglandgranite.com.
See how reclaimed granite was used for retention on this front yard slope.
Photos courtesy of Olde New England Granite.