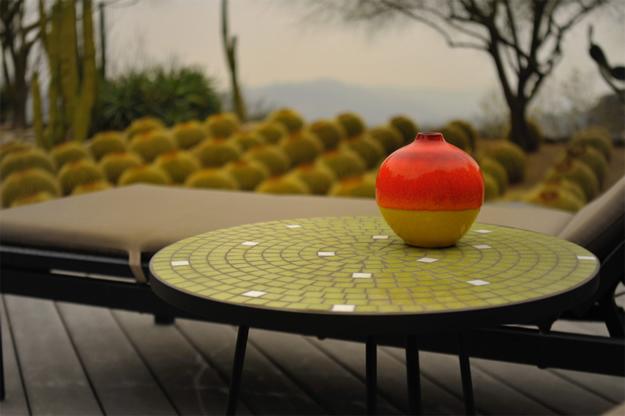 Get more from Garden Design
Trends for the garden are constantly evolving, yet favorites from the past continue to make appearances. Terrariums are just one example of this—a fresh flashback from the 1970s, these fun, tiny gardens are making a comeback. Now Mod fanatics also have a new go-to piece for their garden with the timeless, chic, and functional Midge tile table from Potted. A multi-seasonal must-have, Potted's co-owner Annette Goliti Gutierrez explains what prompted their newest design.
"We made the new Midge tile table in response to many of our customers wanting a clean lined, chic and modern occasional table," describes Annette. "Round is traditionally harder to do in tile, especially glass tile—it's hard to cut well—but the shape is such a beautiful contrast to the hard lines found in so many modern gardens. Square is so expected. Mod is definitely popular with our customers, but I think even the hardcore modernists appreciate the relief of a gentle curve."
Even if you don't have a "mod" yard, The Midge looks great with more traditional wicker or teak, and it looks fantastic inside too.
No matter the setting, The Midge fits right in. "My home is actually a craftsman/farmhouse style," explains Annette, "but I love mixing elements, and my style definitely leans to the cleaner, modern look." And when it comes to color, Annette recommends using accent pieces to give you that pop you're looking for. "I like big furniture to be neutral because it's more expensive to change out when you're sick of a particular color. I like adding pops of color with a bright occasional table, some planters, and an outdoor rug and pillows."
The Midge works almost anywhere: a sunny spot in the garden, between two lounge chairs, on the corner of an outdoor sofa, or by a front door. Annette's Midge usually has "one specimen succulent, maybe a tea candle, and some room for drinks or a plate" on it. She enthuses, "The best thing about a tile table is that in the dead of winter when everything is dormant and dull, you have this beautiful, bright spot to make your whole day just a little happier."
Potted is located in Los Angeles, but you can also shop online.
The Midge is available in six colors plus customizable pixel options.
Starting at $495.00