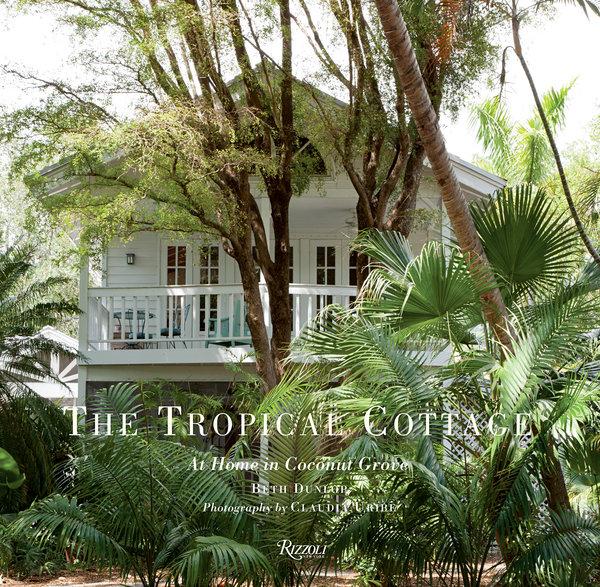 Just in case you've grown tired of the conversation about "bringing the inside out" or "bringing the outdoors in," you'll be glad to know that the topic is still being covered in a fresh way. In The Tropical Cottage: At Home in Coconut Grove, author Beth Dunlop explores the characteristic style of one of the most beautiful neighborhoods in the United States, and uncovers interior decorating concepts from "real" people (most of her 33 subjects are houses not owned by designers) that make sense for you no matter where you live, no matter what your preferred style is.
What distinguishes all the homeowners who allowed Dunlop and photographer Claudia Uribe into their yards and houses is their adventurous spirits in their work and their lives. "All of them love the land and the landscape, and history, and their connection to community," says Dunlop, a Pulitzer Prize nominated journalist and the Editor of Modern magazine.
Like most people, the homeowners whose Coconut Grove houses the book covers spent more on their interiors than their gardens, but that doesn't mean the gardens are suffering. "When you're investing more indoors than out, there are a few impactful things you should do in the garden that pay big style dividends," says Dunlop.
Wondering what those design moves are? Dunlop walks us through a few of the pages in her book to reveal how clearly articulated style is so strong in its simplicity.
Clustering Potted Plants
"What I love about this photo (and the idea) is that it's inexpensive and simple to cluster plants in pots, either up on a table or on the ground -- and it makes such a design statement. You can hunt around at flea markets or go to the less expensive homewares or discount stores and get pots that are all in one family (or not, depending on your taste) and then fill them with a variety of simple and inexpensive green or flowering plants."
Color-Connected Patio
"To me, this epitomizes what color can do for a space. The little back cottage is painted turquoise and the cushions and the pot echo it. A bright tablecloth gives the space a finished look."
Grand Gesture
"This is, of course, a tropical setting (and everything grows like mad in the Florida sun, humidity and heat) but the object lesson is the same. The muted color of the shell path lined with local stone and bordered in green allows the huge spray of bright fuschia-red bougainvillea to provide both a dramatic moment and a sense of comfort and welcome."
Images used with permission, photography by Claudia Uribe.