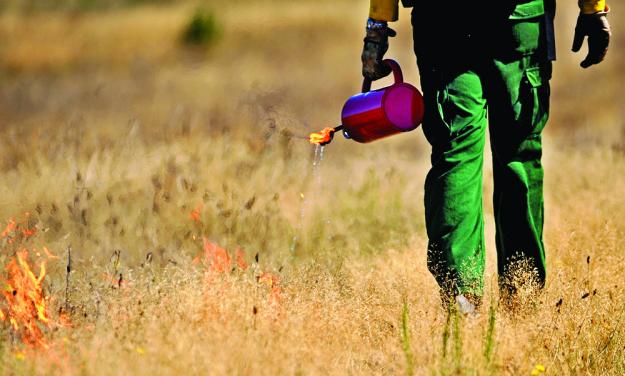 Photo by:
Ingrid Barrentine/Fort Lewis Public Affairs Office
Before European settlers arrived in North America, prairie fires were a spectacular seasonal occurrence, usually ignited by lightning or Native American inhabitants before the spring rains and often raging for days across thousands of acres. The fires were a crucial part of the life cycle of these native grasslands, which once covered a vast, triangular swath of North America, from the eastern foothills of the Rockies east to the Ohio River Valley and tapering north into what is now Minnesota and Wisconsin. These conflagrations arrested natural succession—the transformation of treeless land into forest—and recharged the soil with nutrients, allowing the flourishing of an extraordinary variety of grasses and flowering plants, as well as thousands of insect, bird, and reptile species.
A well-established tallgrass prairie, the kind once prevalent across the Midwest, can harbor as many as 300 different species of plant life, the majority of which are wildflowers. Asters, sunflowers, white indigos, black-eyed Susans, purple coneflowers, Turk's cap lilies, prairie phlox—the diversity and beauty are staggering. As is the variety of grasses: big bluestem, switchgrass, Indiangrass, june grass, dropseed, and on and on. Prairie grasses and flowers return with vigor after a fire, aided by a robust plant structure that has adapted perfectly to the environment—from flexible stems capable of withstanding harsh winds to growing points situated at the base rather than the tips of the leaves, facilitating new growth after a fire (or, back in the day, after grazing by wild buffalo).
Today only scattered remnants of the great North American prairies remain, mostly in the Midwest, but across the region prairie restorations on public and private lands are helping native grasslands gain a foothold again. "We've dedicated almost a quarter of our total land, 260 acres, to prairie and savannah," says Steve Glass, a restoration ecology planner at the University of Wisconsin-Madison Arboretum. Glass is also the arboretum's fire manager, which means he is responsible for overseeing twice-yearly prescribed burns that are a critical tool for maintaining the health of the preserve's restored prairie lands. "We don't call them 'controlled burns,'" says Glass, "because you can't really control a fire, only contain it."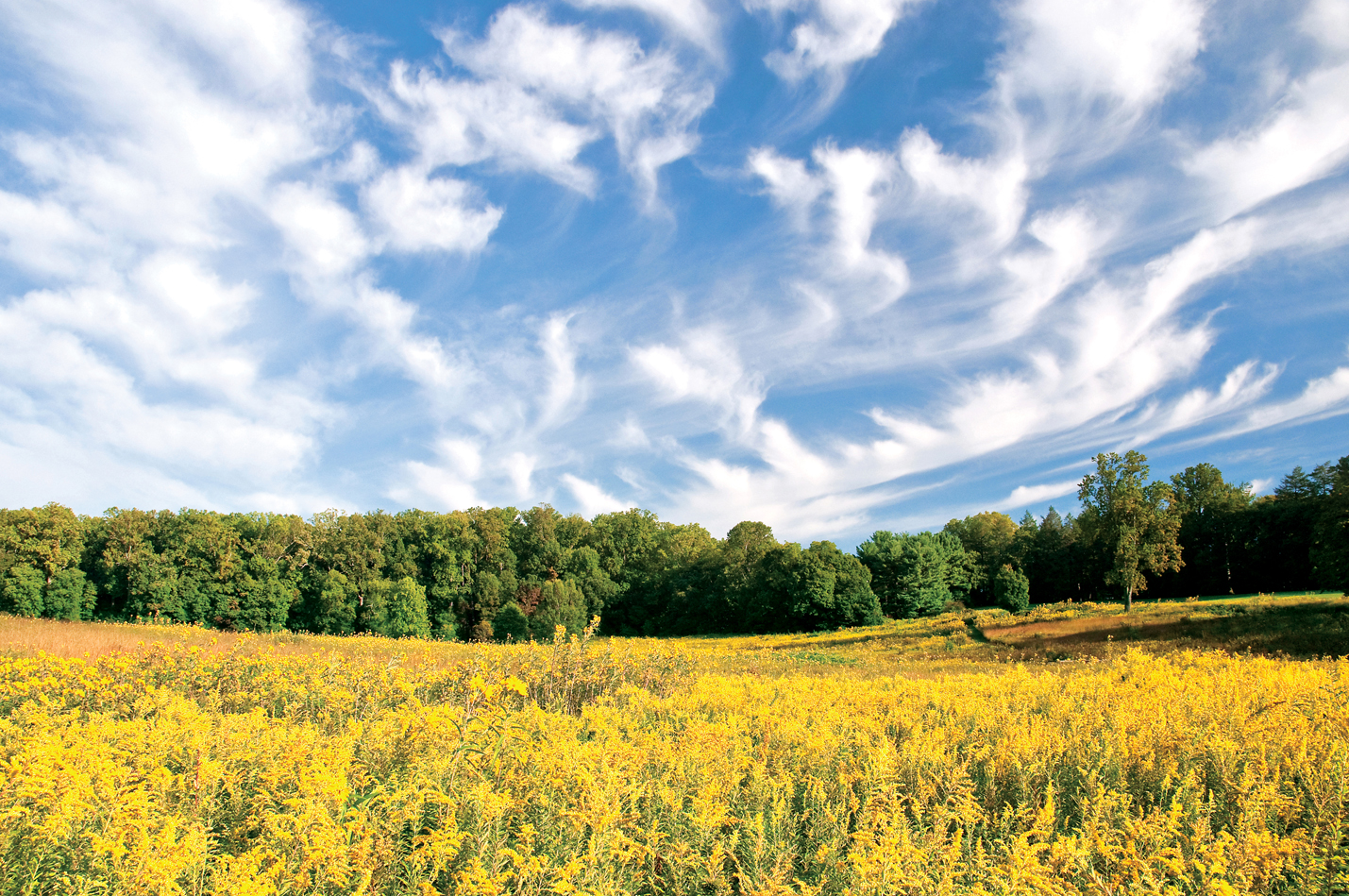 The use of prescribed burns is hardly limited to Midwestern prairies. Fire can have a beneficial effect on many kinds of treeless and edge-area environments, including the 41-acre meadow pictured above, situated on the grounds of Longwood Gardens in Kennett Square, Pennsylvania. Managed burns conducted every few years there, usually in late winter, have prevented the growth of trees and shrubs and have helped keep invasives like Japanese honeysuckle and Canada thistle at bay. Seasonal burning also improves the soil quality and growing conditions for native grasses and forbs (nongrasslike flowering plants), clearing away dead undergrowth and releasing nutrients that were tied up in decaying plant matter. What's more, all that blackened ash absorbs sunlight readily, warming the ground and promoting faster seed germination. Depending on the month, the meadow at Longwood Gardens in high season can be seen bursting with everything from four species of goldenrod (above) to New England aster, wild bergamot, yarrow, great blue lobelia, and butterfly milkweed.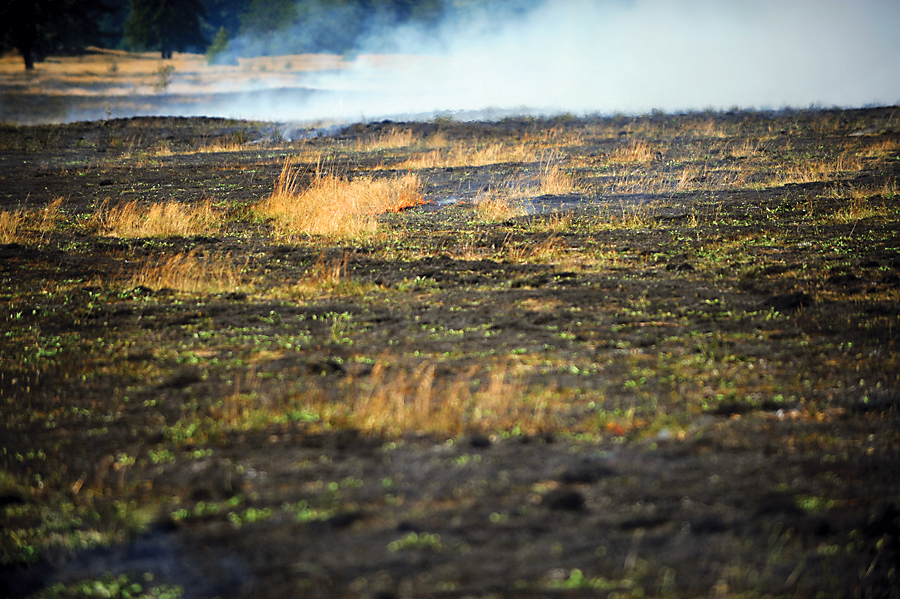 FRIENDLY FIRE
Managed burns are closely watched affairs, conducted only in the right weather conditions. Large prairie preserves are often divided into management units surrounded by a fire break of gravel, earth, or pavement. In the photo at top, a worker uses a drip torch to start a fire on one section of a 12,000-acre prairie managed by the U.S. Army at Fort Lewis, in Washington State. (The photo above shows the same prairie smoldering after the burn, ignited in the photo at the top of the story.) Among the first grasses to sprout after a fire is prairie dropseed (Sporobolus heterolepis) and the clusters of dropseed eventually grow to one or two feet in height and flower in late summer.
Home gardeners interested in small-scale prairie restoration on their land need a municipal permit to conduct a burn, but for an increasing number of native-plant enthusiasts, it's worth the trouble. Marcy Schramm, a home-owner in Plymouth, Minnesota, who worked with a local firm called Prairie Restorations to install a patch of prairie on her family's property, says seeing it all go up in flames for the first time was a shock. "But within a couple of weeks," she says, "things were already turning green and my grasses and wildflowers bounced right back, taller than ever!"

This article was first published in Garden Design
April 2011