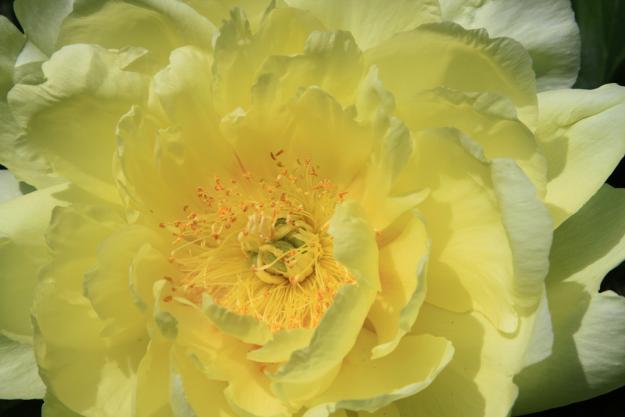 Photo by:
Rhonda Fleming Hayes, www.thegardenbuzz.com
Peonies are the grandes dames of the garden: stately, long lasting, and often copiously perfumed. They are great massed or in a mixed ornamental bed; and as cut flowers, lush single blooms, or full bouquets, they are equally breathtaking. But even though these plants are fairly easy to grow—good drainage and full sun, plus a little afternoon shade in hotter climes, are all they ask—they're not always easy to buy. Especially the popular and unusual varieties.
"We sell out of most of our peonies each year," says Renee Jaeger, farm manager at Klehm's Song Sparrow Farm and Nursery, a family-owned company in Avalon, Wisconsin that's been breeding and growing peonies since 1916. "And the yellow tree peonies tend to go first." Herbaceous peonies, which die down to the ground each winter, are shipped as bare roots in the fall, but some nurseries, including Song Sparrow, will let you preorder them now. Woody-stemmed tree peonies are available spring through fall, as are the best-of-both-worlds hybrids called Itohs (after hybridizer Toichi Itoh), or intersectionals.
Itohs still tend to die back in winter, but their stalks are strong enough to support heavy blooms without staking. They have the finely articulated leaf shapes of tree peonies but are more heat tolerant. Itohs have the added advantage of being able to develop more than one bud per stem, which means a longer bloom period—as much as one month— with one flower opening after another. A spectacular variety is Paeonia 'Bartzella,' a semi-double to double large flower (pictured here) with rich lemon yellow petals and a mild lemon scent.
Because yellow bloomers are harder to propagate, they come at a steeper price. When P. 'Bartzella' hit the market in the 1990s, Jaeger remembers, one nursery charged $1,000 per plant. Prices have since dropped, but it's still an investment to add them to your garden (Song Sparrow charges $90 plus $22 for shipping). Don't let the high price scare you, says Jaeger; peonies more than earn their keep. "These are heirloom plants," she says. "If they're happy, they will live 100 years."

This article was first published in Garden Design
April 2011