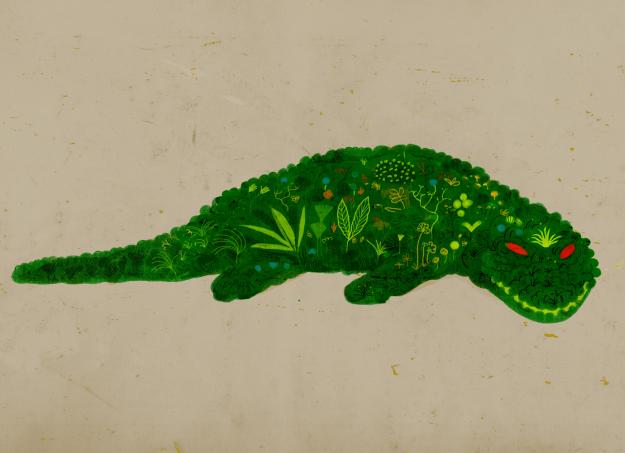 Photo by:
Beppe Giacobbe/Morgan Gaynin
It was a gift. Twenty-nine inches long, with a gaping mouth, red eyes, and a rough green skin wrapped over wire. At first I was thrilled, since I like garden décor: In my small plot on the banks of the Delaware River, I have tuteurs, a stone lion, various urns, and a small armillary—perfect roommates for a topiary alligator.
But this green creature was not friendly. I realized this at once, as I placed it on the dining room table. Its red eyes looked at me balefully, its jaws showing metal teeth. I quickly gave it a name, Ally, to domesticate it.
It seemed too cold (being December) to put Ally outside, so he (Ally was definitely male) remained on my table. Shedding little green tufts. I spritzed him with water to no avail. I doused him in the sink. He became soggy. His eyes continued to glare at me redly.
He had guessed, of course: I did not love him.
I have always had a complicated relationship with topiary. I can understand the design value of a spiral yew. Some topiary gardens are delightfully fanciful affairs, like Maryland's Ladew Topiary Gardens. But on my own turf, I always hesitate. The idea of forcing plants into contorted, twist-and-snip shapes seems very like torture—a self-satisfied declaration of Man's ultimate domination over Nature.
Ally could have been different. Even Alexander Pope did not list an alligator in his antitopiary satire. But as I carried Ally inside and out, placing him in a flower bed, on tables, or on a bench in our shared quest for aesthetic satisfaction, I realized finally that alligators are really meant to be in water—even topiary ones. He surely spotted the river at the bottom of my garden, rising invitingly as the rains came.
Come spring, he can join the plants on the riverbank and perhaps revert to nature. It's what he'd want.
For more about topiary, including its history, pick up our May/June issue, on stands now.