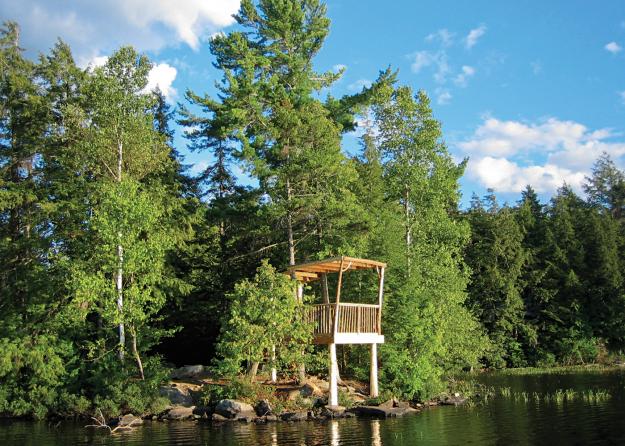 Photo by:
Courtesy Michael Greenwood
Michael Greenwood is known for the bespoke furniture he creates in his Toronto studio, so it's a bit odd to hear him talk about the features of his latest designs. There's a slide that shoots its riders into a lake, a 50-foot chute that swirls from tree canopy to forest floor, and devices for climbing, jumping, and swinging for a boy with autism who loves to do nothing more.
Greenwood—who crafts tables, chairs, and lamps from reclaimed materials—has lately been venturing into the woods to create treehouses. He built his first with a group of kids as part of an initiative he created to let inner-city youth experience the outdoors in a camp setting. He has since built five more—from a simple roost to a canopy kingdom connected by nets, slides, and bridges—around the cottage country of Southern Ontario and has several more in the works. He uses timber from nearby mills and fallen trees from the site as well as reused wood from old barns, warehouses, and doors, which he prefers for its "sense of craft and age."
Greenwood eschews the high design of today's trendy treetop dwellings in favor of a handsomely rough appearance. "I always include some features that remind you that this wood was once a tree," he explains. His structures exist in tune with the forest, not merely on top of it. The result is a place that begs everyday use, for morning yoga, a noontime nap, or quiet repose during the evening—and, of course, as a play place for marauding bands of kids.
Becca Bergman Bull is a contributing editor to GARDEN DESIGN.