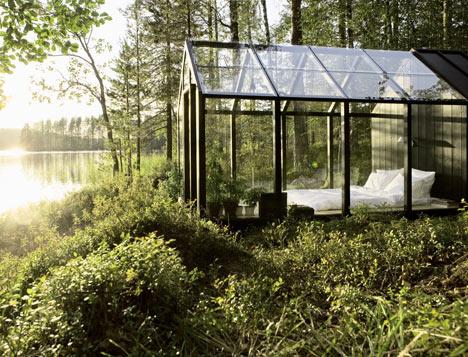 -Check out this garden shed/greenhouse, designed by Finnish architects Avanto Architects, by Ville Hara and designer Linda Bergroth for Kekkilä Garden's Home & Garden collection. It is a pre-fab shed, combined with a greenhouse, that can be assembled with just a screwdriver. This particular model is designer Linda Bergroth's summer cottage, on a distant island is eastern Finland. It's also used as an extra bedroom in the summer! [Architizer] See more of the amazing photos of this greenhouse on Dezeen.
-Urbanized, by Gary Hustwit (whose earlier films include Helvetica and Objectified), opens this weekend in cities across the country. This is the third in Hustwit's "Design Trilogy" and a number of movie theaters are playing all three films this week.
-Google Earth now has special visual tours of some well-known gardens around the world, including London's Kensington Gardens, New York's High Line, and Tokyo's Konganei Park.
-Mushrooms! You have questions, the New York Times has answers.