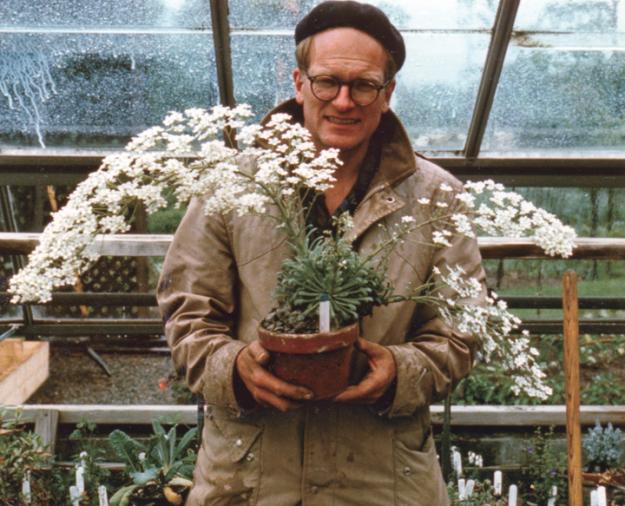 Photo by:
Courtesy of Stonecrop Gardens
This article appeared in the March 2012 issue as "Garden Great."
In November, Frank Cabot, founder of the Garden Conservancy, which is devoted to garden preservation, passed away at age 86. Even before he died, the garden community could not say enough good things about him. Below, a few words said in recent years about the financier-turned-green thumb.
"He's so immensely knowledgeable. I think, of all the people I have met in this world, he has been the greatest influence."
— Graham Rankin, head gardener, Aberglasney Garden, Carmarthenshire, Wales
"Frank is hands-on, the real-deal. Whenever he visited Wave Hill [in New York], everyone would get excited and say, 'Oh, Frank is coming!' Frank was head of Friends of Horticulture, but he was also another gardener meeting other gardeners. If they shared his passion or knew something he wanted to find out about, he was there and they loved him for it. And he's also a lot of fun to be around."
— Marco Polo Stufano, founding director of Horticulture at Wave Hill and member of the Garden Conservancy, New York
"Frank Cabot is a visionary gardener, an amateur designer who in his own garden combines a strong 'sense of place' with a quite rigid intellectual analysis of the best aspects of garden design."
— Penelope Hobhouse, garden writer, designer, and historian, Dorset, England
"First and foremost, Frank is a great plantsman. He designs the garden around the plants."
— Elizabeth Barlow Rogers, president of the Foundation for Landscape Studies and former president of the Central Park Conservancy, New York
Read more about Frank Cabot in our April 2011 article "The Place Maker: Frank Cabot."

This article was first published in Garden Design
March 2012