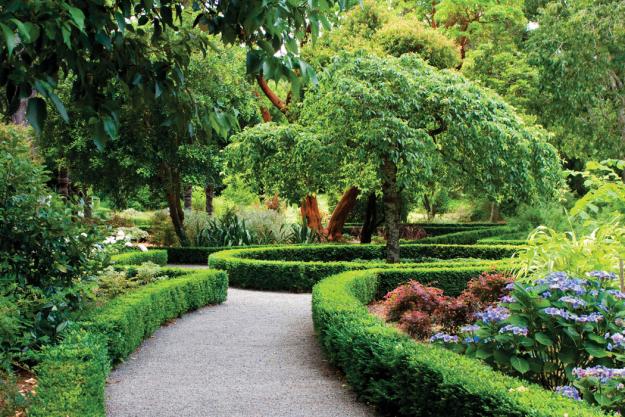 Photo by:
Courtesy Otahuna Lodge
Five-course dinners served in front of a roaring fireplace, sheepskin rugs placed bedside at night, and freshly restored elegant period architecture are enough to make Otahuna Lodge, a Relais & Chateaux property just outside of Christchurch, New Zealand, the stuff of travel dreams. But for the horticulturally inclined, it's what lies beyond the walls of the Queen Anne–style mansion that begs a trans-Pacific flight. The sprawling grounds of the estate, built in 1895 and overhauled in
2006-07 by Americans Miles Refo and Hall Cannon, include a great lawn and ornamental lake hugged by trees; a formal English garden; an orchard; a vegetable garden; woodland paths; and a field that provides a show-stopping daffodil display come September.
Ongoing restoration honors the original vision of Sir Heaton Rhodes, the home's first owner and an avid horticulturist, while upgrading for efficency. So far, long-dormant blooms and paths have been uncovered, and an apple storage shed repurposed as a mushroom-growing house. "My favorite thing is to look back at pictures that were taken six years ago and compare them to what the gardens look like today," says Refo, who, with head gardener Steve Marcham, oversees the grounds. "It provides a real sense of reward for being patient." And that, whether you have an English country-style estate or a small patch of land to cultivate, is the hemisphere-­transcending joy of gardening.