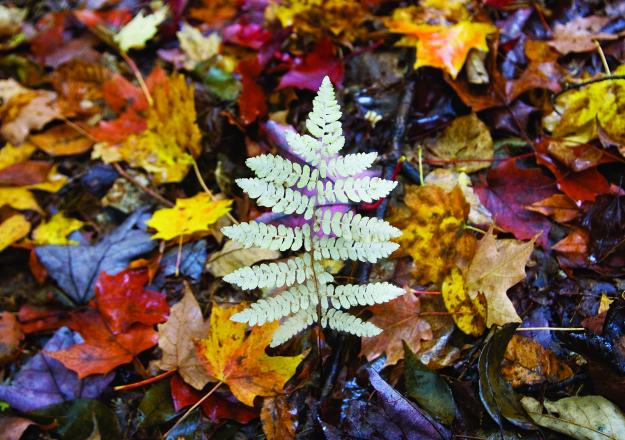 This is a companion piece to our Ancient Beauty article.
Few plants quickened the pulse of Victorian-era collectors more than the seemingly humble fern (see "Ancient Beauty"). It's safe to say that the specimen above, the Athyrium 'Ghost' fern, with its luminous, silvery fronds, would have caused a stir had it been discovered back then.
In the early 1990s, it certainly impressed botanist John Mickel, then curator of ferns at the New York Botanical Garden. Mickel was shown this fern by a private gardener in Richmond, Virginia. Struck by its other-worldly appearance, he went home with some cuttings and determined that the plant was a hybrid of the American Lady fern and the Japanese Painted fern.
"It is sort of a happy accident in that it came up spontaneously, as opposed to being a controlled hybridization," says Robbin Moran, Mickel's successor at NYBG. Because of its hybrid origins, the Ghost fern is sterile and can be reproduced only through tissue culture, which typically occurs in a lab.
Today, Ghost ferns sold commercially are primarily created at Casa Flora, a horticulture firm based in Dallas. "Tissue culture has allowed ferns that would be much more rare to become much more common," says Jeff Cook, who works in sales at Casa Flora. The Athyrium 'Ghost' ($15) and other ferns can be purchased from Plant Delights Nursery.
Grow Zones:  'Ghost' Fern
The Athyrium 'Ghost' is a hardy, shade-loving fern that thrives in Zones 3 to 9. It has a rigid, upright structure and can reach two to three feet in height. Its fronds open silvery white and darken over time to gray-green with burgundy midribs. The Ghost fern is a great accent to darker-leaved shade lovers like Heuchera 'Obsidian'; try planting multiple ferns en masse to create an ethereal glow in a woodland garden. Like most hardy ferns, the Ghost requires little care, especially when planted in slightly acidic, humus-rich soil.