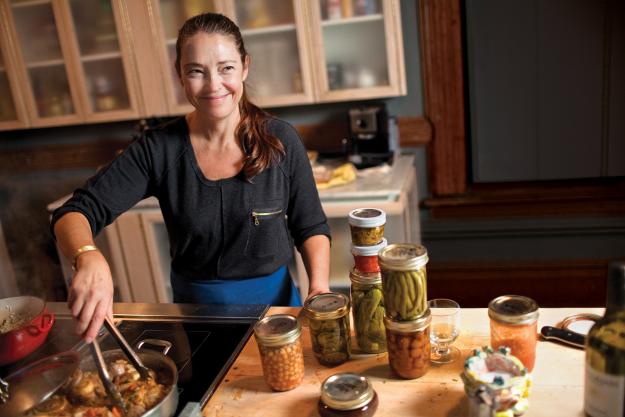 In her New York City kitchen, author Eugenia Bone browns lamb shanks with a mixture of chickpeas and garden-fresh tomatoes that she canned at home.
Every May, my husband, Kevin, heads out to our cabin in western Colorado to put in our summer garden. It is his time to fix fences and set the irrigation pipes, to plant the basics I rely on in the kitchen—such as tomatoes, zucchini, and fava beans—and to tend the perennials I use to season them, like oregano, thyme, and sage. Come late June, when I leave our home in New York City to join him for the summer, I take on the garden chores. I work in the early mornings, before the sun gets too hot. I walk across the backyard in my rubber boots, hoe in hand, stepping on the morning glories that blanket the lawn. I follow the shade as it diminishes, hoeing to aerate the soil. I prune the tomatoes and then fill my basket with everything that is ripe, to eat that day or to preserve in small batches for the winter.
My father, an Italian, taught me to prune tomato plants so that the fruit can receive plenty of sunlight. I water them frugally, and the tomatoes grow shiny and fat, retaining their sweet water until I slice them open and shove them into the canning jars. Being Italian, my father also taught me to preserve. He would can traditional foods—like tuna in oil, pesto, and, yes, tomatoes—some of which weren't yet available in American markets, and in that way taught me to put up the foods that I like to eat. Right now, in my pantry in Manhattan, I have chickpeas with tomatoes (see Chickpeas alla Marchigiana recipe), among other home-canned staples. From this supply I can throw together a delicious meal, like osso buco with chickpeas in tomato sauce, and a gremolata with my own rubbed sage. I use the ingredients I've preserved from my garden, as well as foods I've encountered at great prices, like dried Umbrian chickpeas, which I rehydrated and canned, or veal shanks that I stashed in the freezer. Ultimately, home-canned foods, for all their quirks, taste better than anything you can buy.
The science of preserving is simple. You just have to understand what kills the microbes that could spoil your food. In home preserving, one either kills all spoilers—molds, yeasts, and bacteria—or retards their growth. One method is water-bath canning, which involves processing foods packed inside glass jars in boiling water. The heat generated by the boiling water pushes the air out of the tissues of the foods and jar and creates a vacuum seal. It also sterilizes the food and the jar. This technique is safe for foods that have a pH (acidity) of 4.6 or less, and for fruits and vegetables to which the appropriate amount of acid, like vinegar, has been added. To preserve a lower-acid food like the chickpeas, I use a pressure canner. Steam builds up in its airtight cavity, accomplishing the same thing as a water bath but at much higher temperatures. This technique kills all spoilers, period. Preserving herbs, meanwhile, requires no special equipment. For sage, I clip stems that are full of young leaves in the morning after the dew has evaporated but before the heat dissipates the oils. I tie them into small bundles and hang them upside down in a dry, shady place with good air circulation. Once the herb is brittle, I remove the leaves and rub them between my palms. The sage will keep in a cool, dark place in clean glass jars for up to one year.
There are many good reasons to preserve, but none are as profound as the act of opening summer's tomatoes in the dead of winter, and remembering it will be warm again soon.
Eugenia Bone is the author of three cookbooks. She writes Well-Preserved, a blog about preserving year-round, for the Denver Post.