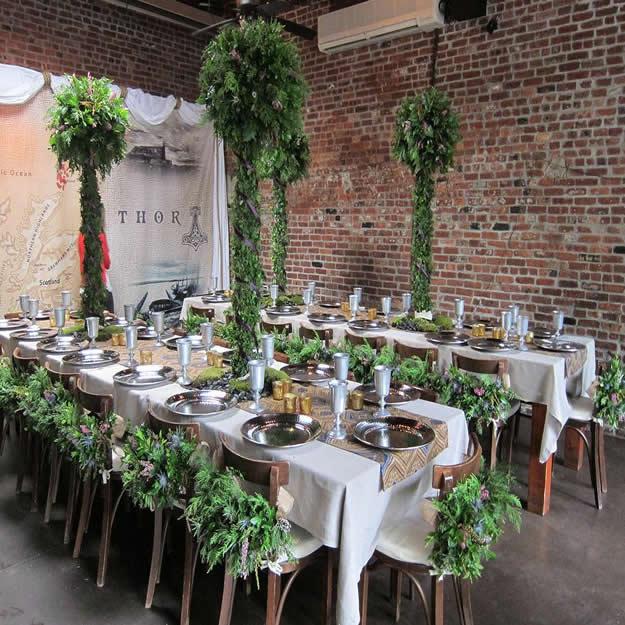 Harlem Flo
If garland was a dessert, it'd be your grandmother's apple pie. Always there at the holidays, always delightful, but never much different than the year before. This season, add a contemporary twist to familiar tradition with new mixed garland and creative displays.
"The trend in garland is fresh," says Louis Gagliano, co-owner of Harlem Flo, a flower boutique in New York City with clients that include Vogue magazine, Columbia University, and St. John Knits. Typically placed around mantels or door frames, fresh garland as a floral arrangement is "out of the realm for many people," he says. "They often don't think of it when they come to us for floral design. When we suggest it, it sparks their imagination."
Punch up your holiday décor with these expert tips for designing with garland:
Customize garland with the colors of your other holiday décor.
Use plants you like such as succulents to give it your own personal flair. Hide tiny plastic pots (green or black) in your garland and insert succulents to make them last through the holiday. Transplant into your garden in the spring.
Mix different textures of foliage, and hues of greenery. "Using two to three pine mixes such as cedar, white pine, and Fraser fir is a big change in garland recently," says Jon Schultz, owner of Northwoods Evergreen and Wire in Wisconsin, a company that has been producing evergreen garlands and garland-making machines since 1974.
Intertwine ribbon which creates more volume.
A longer garland is more versatile and perfect for draping a mantel or staircase rail.
A mass of garland in one place is better than smaller garland in multiple places.
Try atypical places to drape or hang garland. Secure it to the back of chairs. Hang it from the ceiling like a chandelier. Use it as a table runner for a full-length centerpiece.

And of course, don't forget to put it on your mantel, bannister, or over doors and windows. It just wouldn't be Christmas without it.
Garland Resources:
http://shop.northwoodevergreen.com
http://www.harlemflo.com

Northwoods Evergreen and Wire