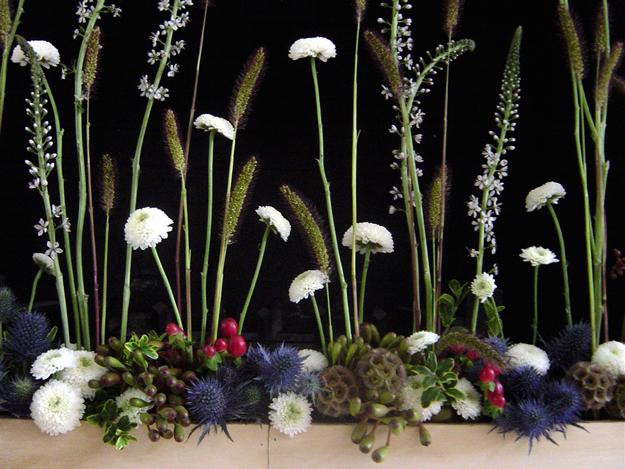 When floral designer Clover Chadwick thinks outside the box, the result is an entirely new way to live with flowers indoors and out. At her Los Angeles studio, Dandelion Ranch, Clover remembered how the wilds of America looked from the square window of her family's car. This two dimensional view became the inspiration for Garden Screens, a truly linear way to arrange plants and flowers to suit challenging spaces. Consider them a simple slice of nature.
The screen design involves principles of Japanese ikebana arrangements by emphasizing more than just a flower, but the stems and leaves too, which allow for a highly transparent result. This makes them useful in the office, home and outdoor living spaces due to the variability of the arrangement. What gives them such amazing structure are the twigs, cattail stalks and very long stemmed florals that stand up tall to create height without mass.

Photo by: Luminaire Images
Each Garden Screen is a customized design with succulents, cut flowers and even tiny cactus for a Southwestern feel. A screen can feel wild or very controlled depending on the plant choices. Minimal streamlined designs are preferred for modern architecture or a more abundant wildflower look for natural organic style. They can be created to suit long harvest tables, add life to the window sill, serve as room divider or use against bare walls. There is no limit to the ways linear Garden Screens can be used to solve problems, enhance outdoor living spaces, and most important of all, they link interiors with outdoor living spaces in a fresh new way.
Visit Dandelion Ranch.
See more of Dandelion Ranch's Garden Screens on Flickr.