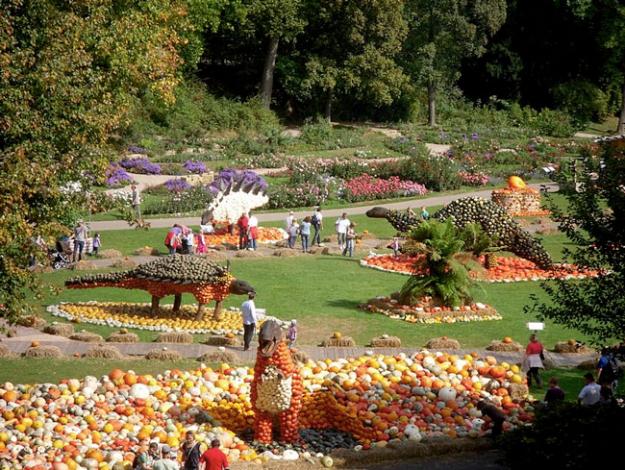 Photo by:
Mimi/expatblog.com
For the last month or so, autumn's enthusiasts have been converging in Ludwigsburg, Germany for an annual festival. Snapshots from this year's event read like a children's storybook: a lake filled with pumpkin-boat paddlers, a feast of champagne and pumpkin strudel, and a sculpture garden of dinosaur pumpkins—all under the shadow of a seventeenth-century castle.
With its fanciful landscapes, ribbon-awarding contests, and more than 400,000 pumpkins, the Pumpkin Festival in Ludwigsburg is a fairy-tale afternoon in the countryside, and also the largest pumpkin exhibition in the world.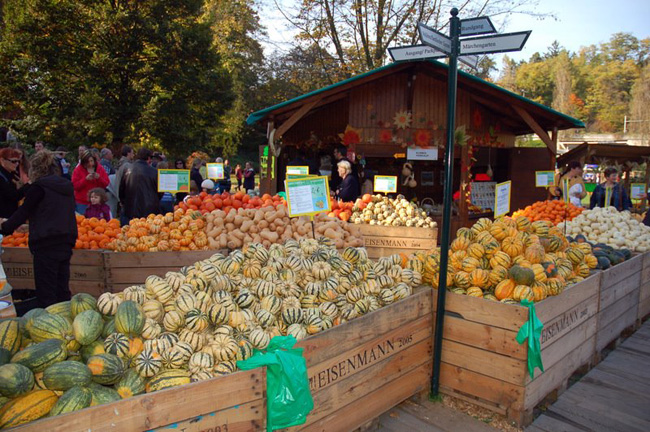 Photo credit: Fraser Anderson
The calendar of events includes a pumpkin weigh-in for Europe's heavyweight champions. Once crowned, the three heaviest are on display until November 6th, at which time they will be ceremoniously smashed in an annual tradition. Meanwhile, visitors can admire more than 450 international varieties of pumpkins and gourds, all with various noteworthy attributes—a sweet aroma, bright color, unusual texture or shape. These are variously gathered by species and country or arranged as artistic installations on the landscape.
The pumpkin exhibits include the dinosaurs in "Jurrasic Park," the festival's twelfth anniversary theme (each year features a different concept, such as 2010's "Under the Sea," and 2009's "Outer Space'). The dinosaurs include a T. Rex, a Diplodocus, and a Triceratops—all with bumpy body armor made of multi-colored gourds and pumpkins.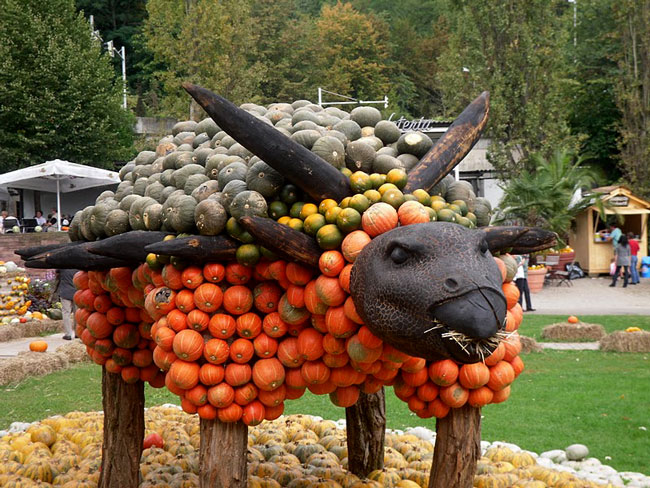 Photo credit: Mimi @ expatblog.com
Festival edibles include pumpkin Maultaschen (Swabian ravioli), pumpkin risotto, pumpkin jam, and pumpkin seeds, oil, and wine, sold at Kürbisshops (pumpkin stores) throughout the festival grounds.
The regatta is held at the Blühende Barock Lake, where pumpkin boats are launched in lanes. Some contestants are topped with gourd helmets, others wear uniforms of orange, and all paddle in hollowed-out pumpkins. The now-bouyant boats once weighed an average of 200 pounds each. After being scooped out, the displaced pumpkin innards are transformed into pies, curries, and stews. These are, appropriately, served at the festival restaurant in the Ludwigsburg Castle, whose facade is reflected in the lake below.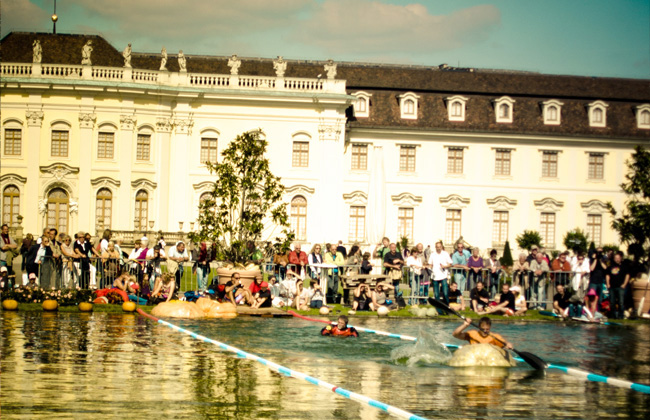 Photo credit: Flickr user 1yen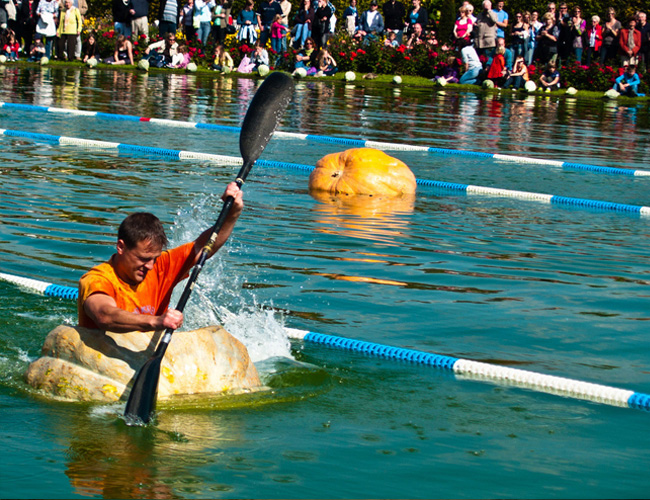 Photo credit: Flickr user 1yen
The Blühende Barock/Ludwigsburg Castle is located at Mömpelgardstrasse 28, 71640 Ludwigsburg. Tickets cost €8 for adults and €3.90 for children 15 years old and younger. Family tickets (two adults and two children 15 years old and younger) cost €21.50. For those wishing to visit the castle, there is an English guided tour daily at 1:30 p.m. For details call civ. 07141-1820-04. For more information about the pumpkin festival and the program, visit www.kuerbisausstellung-ludwigsburg.de, www.blueba.de or www.juckerfarmart.ch.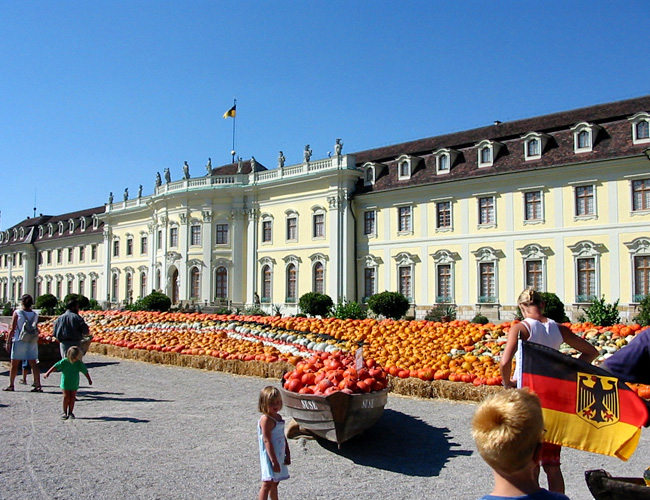 Photo credit: Flickr user Waqas Ahmed
Photo credit: librarianwithsecrets.blogspot.com
Anna Laurent is a writer and producer of educational botanical media. Photographs from her forthcoming field guide to Los Angeles are available for exhibition and purchase at the author's shop.