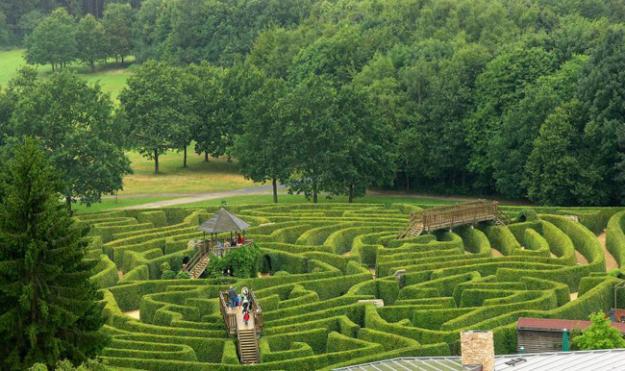 Until the early part of the twentieth century, a town in southern Netherlands provided a passage for smugglers, who ported coffee, butter, and meat from adjacent countries. Today, the historic town is famous for a new attraction: Drielandenpunt Labyrinth, Europe's largest open air shrub maze. It was designed in 1992 by British landscape artist Adrian Fisher, who built the labyrinth with 17,000 hornbeam shrubs, and perhaps a nod to the smuggler—a metaphor for navigating the intricate maze.
The location is called Dreidlandenpunt, or Three Country Point, named for the border shared by Belgium, Germany, and the Netherlands. The earlier black market eventually dissolved, though Dreidlandenpunt's popularity did not—it is the highest point in the Netherlands, with beautiful vistas and winding trails—and locals and tourists replaced the smugglers, flocking to the historic border town.
Adrian Fisher, whose work includes corn mazes, mosaic mazes, and mirror mazes, designed the Dreidlandenpunt Labyrinth with particular challenges. Hedges are taller than visitors, and obstacles include water fountains blocking the path.
Upon completing the maze—which is estimated to take about an hour—visitors gain access to a platform with views of the three countries, and a map of the labyrinth that shows hidden images that Fisher abstracted in his design.
Afterwards, one can reenact the black market, playing games in which smugglers elude custom officers. Traditional activities include clay shooting, archery, and rifle shooting, and a drink at the hotel's reconstructed illegal distillery.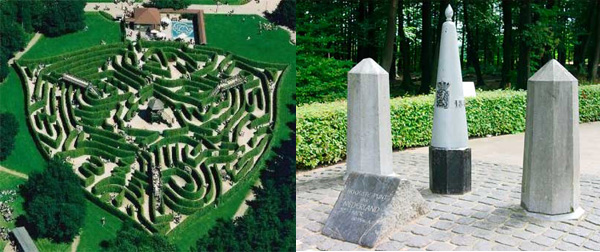 Dreidlandenpunt Labyrinth, and the three monuments for the three countries that share a border (one obelisk in each country). Photo credit: dreidlandenpunt.nl