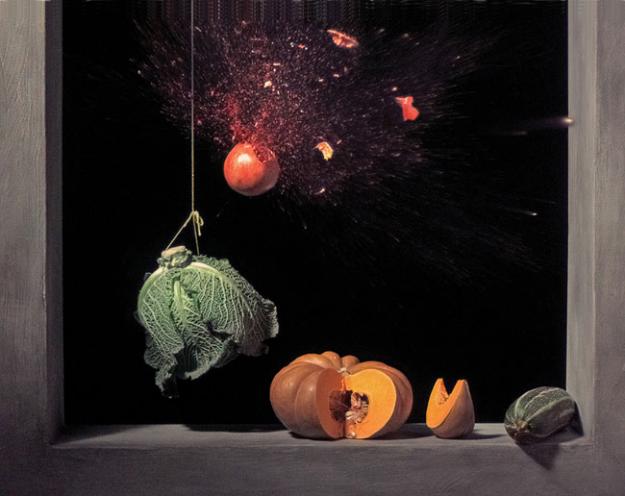 Photo by:
Ori Gersht. "Pomegranate," 2006. HD film (color, sound).
A squash and a cucumber cast dark shadows on a sill. Above, a pomegranate and a cabbage are suspended by a string against a deep black background. A sense of tension builds—a slice has been cut from the melon, suggesting the recent presence of an absent actor; the exposed fruits are displayed like targets. Finally, a bullet blasts through the scene and the pomegranate explodes into hundreds of seeds and red flesh. The obliterated fruit, still hanging from a string like a public hanging, careens from the impact in slow motion.
Titled "Pomegranate" (2006) and styled after an 18th-century still life by Jan van Huysum, the piece loops at the entrance to "Ori Gersht: History Repeating," an exhibit currently at Boston's Museum of Fine Art. In a collection of 25 films, videos, and photographs, the Israeli artist has produced distinctly modern works that synthesize histories of several types—first, a history of art, in particular European still lifes; and second, his own history, one riddled with wars and violence. As he says (link), his work weaves brutality and beauty, most often depicting fruits, flowers, or natural landscapes as the victims or witnesses to the violence he references.
Artist Ori Gersht. Photo credit: Erik Jacobs for The New York Times
In a second video piece, "Big Bang" (2006), Gersht again borrows the dark style and ominously placid tenor of old master paintings. A colorful case of flowers sits on a dark background. Smoke begins to waft from behind the flowers and a siren swells. The vase suddenly explodes, fracturing glass and lushly-colored petals in slow motion. It's a good 30 seconds before the shards and smoke finally settle, leaving a single flower slowly swaying in the center of the arrangement—a sole survivor to bear witness.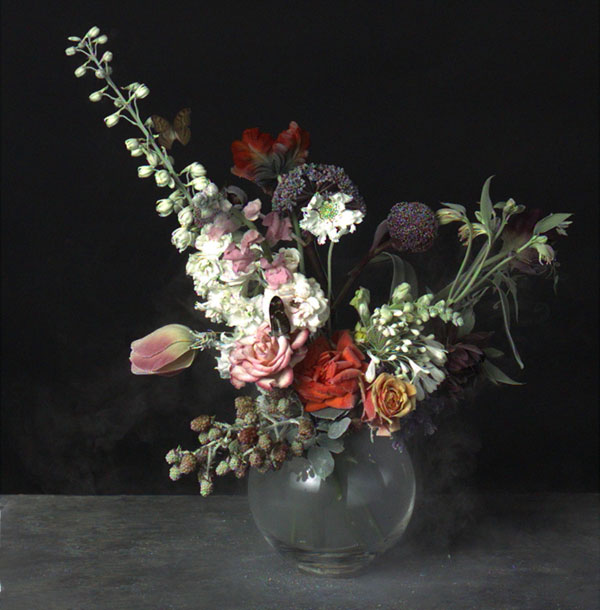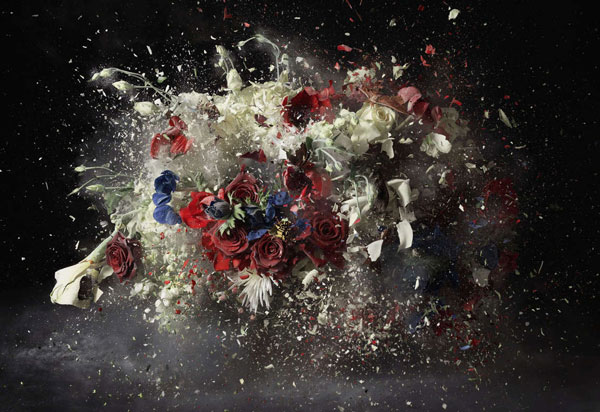 Two stills from Ori Gersht's Big Bang, 2006. HD film (color, sound). Credit: Ori Gersht.
Gersht grew familiar with the sound of sirens in his youth in the mid 1960s in Tel Aviv, and would grow up to experience two more wars. A review in the New York Times quotes Al Miner, who organized the exhibit: "Ori grew up amidst fear and violence in a land of stunning physical beauty and great history," said Al Miner, who organized the exhibition for the museum, where he's an assistant curator of contemporary art. "At the heart of Ori's work is this intersection of beauty and violence. It's an almost subversive approach to using aesthetics to lure a viewer into dealing with subject matter that's very difficult."
In a very good video interview, Gersht discusses the crescendo "moment of realization … this discovery that what we're actually looking at is this brutal, sometimes grotesque, sometimes extremely violent moment. Then once this recognition occurs … the viewer must weigh the relationship and move into an area of discomfort."
A projected film, "The Forest," loops footage Gersht shot in the Ukranian countryside, where his wife's father had hidden from the Nazis for two years, under the floorboards of a safe house. He films the adjacent forest, panning the trees that witnessed the violence, and concealed both Jewish refugees and their pursuers. The tranquil tone is methodically disrupted by falling trees that crash to the ground. After a long beat, the camera moves on to wait for the next casualty.
Gersht portrays natural subjects to embody peace, beauty, and luxury. His flowers, forests, and fruits are edens, disrupted by a dark world.
Ori Gersht: History Repeating opened at the Museum of Fine Arts Boston in August 2012, and will be up through January 6th.
Anna Laurent is a contributing editor.