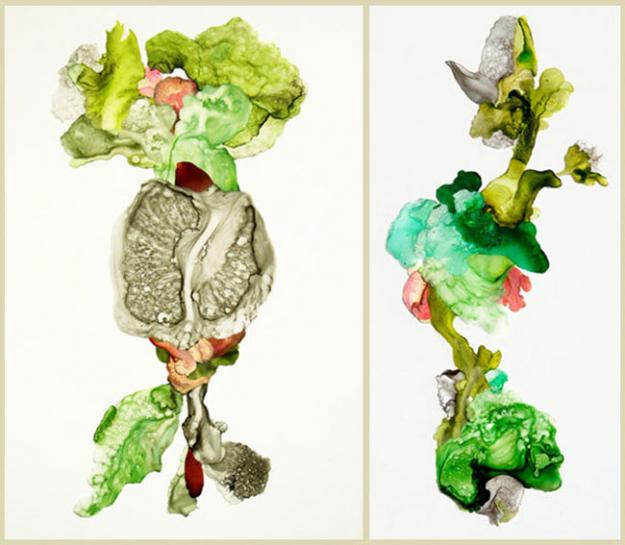 Photo by:
Julie Evans, Wild Garden #1, #5, 2011. Acrylic, watercolor, and ink on mylar
A new exhibit explores the garden as inspiration. Tending Toward the Untamed: Artists Respond to the Wild Garden offers new work by eight artists in a variety of media including painting, animation, photography, and sculpture. The show explores the relationship between natural abandon and horticultural order as it grows in Wave Hill, a garden in the Bronx, New York, that overlooks the Hudson River. Artists were invited to interpret the recently rejuvenated Wild Garden, a garden designed to cultivate a sense of wilderness within the more formal sections of Wave Hill's landscape. The Wild Garden was landscaped in the spirit of 19th-century gardener William Robinson, champion of the wild English garden.
It's not the first time the landscape offered inspiration—of a winter spent at Wave Hill, Mark Twain wrote that the "splendid energy that thrills me and stirs me and uplifts me and makes me want to live always." Teddy Roosevelt spent childhood summers at Wave Hill, and would later advocate for the preservation of America's public parks. Today, the 28-acre space is a public garden and cultural center, with exhibits in the Glyndor Gallery. Our Q&A discusses the exhibit with Jennifer McGregor, Director of Arts and Senior Curator at Wave Hill. The images pair photographs of the garden with images of exhibition work.
Garden Design: The exhibit's concept encourages the idea that a garden is an experience, one that is unique to each garden and to each visitor. What sorts of relationships did this project cultivate with its artists?
Jennifer McGregor: The artists are keenly interested in the relationship between cultivation (the hand of man) and abandon (the actions of nature), which can be seen in the microcosm of the Wild Garden, as well as in the larger area where we live. We wanted a diverse group of artists who have developed distinct ways of working, that would ultimately play off each other. Ultimately we were looking for artists who would interpret the garden in diverse ways, rather than document it.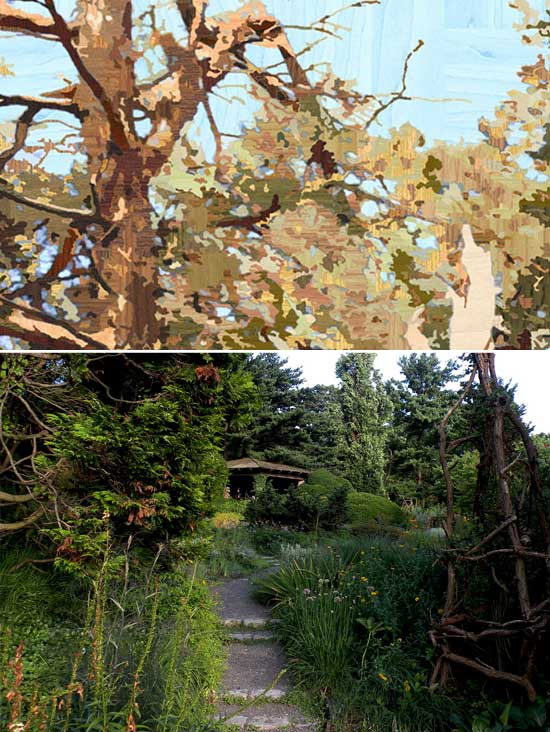 Gary Carsley. D.100, 2012 (Wild Garden Wave Hill). Dimensions variable. Lambda monoprint on IKEA PAX 2 door wardrobe and IKEA Gilbert Chairs. Courtesy of the artist and Margaret Thatcher Projects, New York (top). Wave Hill Wild Garden in July. Photo credit: Wave Hill (bottom).
Q. How did the concept for the exhibition evolve? What was the timeline of renovating the Wild Garden, selecting artists, and curating the exhibit?
A. In 2009, we organized Abores Venerables, an exhibition that focused on Wave Hill's tree collection. Twelve artists studied our trees and toured the collection with our horticultural interpreters. Then they created paintings and drawings in response. This was a very successful way to offer artists an opportunity to get to know our collection, while offering our audience a way to experience contemporary art in relation to the garden. We hope to focus on a different part of the garden every three years or so.
Following the Abores show, in consultation with Scott Canning, Director of Horticulture, we decided that the Wild Garden would the next project. Our curatorial team began researching and meeting with artists in 2010 with the idea of selecting artists who work in a range of mediums, and who had explored the concept of "garden" in their work.
Q. How were the participating artists chosen? Do any have a background in traditional botanic illustration, or are they artists with non-traditional approaches to documenting natural subjects?
A. Rebecca Morales and Isabella Kirkland have backgrounds in scientific illustration, which have a bearing on the intensity of their observation. Gary Carsley and Janelle Lynch have worked very specifically with gardens in the past. Anat Shiftan is a ceramicist who is very interested in plants. Both she and Isabella Kirkland have used the construct of the still life in their work, but in this case shifted to think about landscape. Eric Sanner, Julie Evans and Chris Doyle have processes that are in keeping conceptually with the approach to the Wild Garden.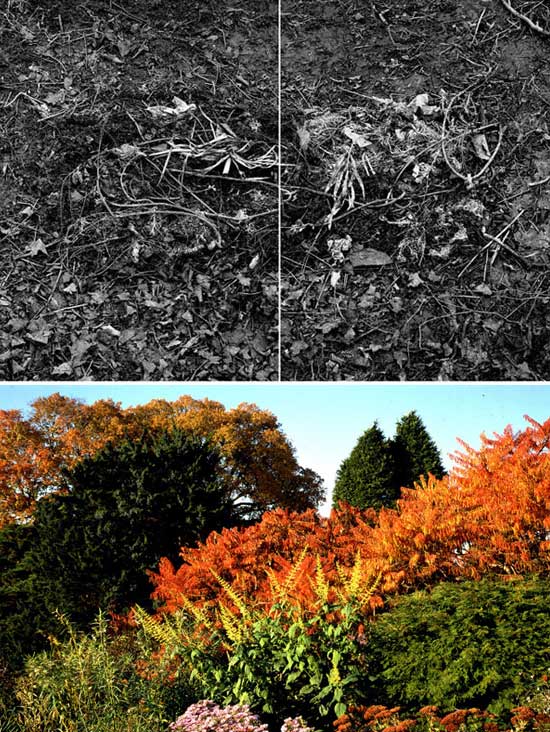 Janelle Lynch, Untitled diptych (work in progress), 2012. Black and white photograph. Courtesy of the artist (top). Wave Hill Wild Garden in November. Photo credit: Mick Hales (bottom).
Q. Can you tell us a bit about the artists' process?
A. The artists had a year to study the garden. They visited the garden and toured with the horticultural interpreters, and we recommended that they read Rick Darke's The Wild Garden: Expanded Edition [about gardener William Robinson]. Eric Sanner set up two hunting cameras in the garden that photographed the garden from May through August. He worked with that footage for his piece. Janelle Lynch was here from November through February this winter, working with the compost from the Wild Garden for her photographs. Gary Carsley, who is from Australia, was able to visit in each season to photograph. Rebecca Morales and Isabella Kirkland both live in California. Isabella relied on photographs she had took on her visit last year. We supplemented Rebecca with photographs during the summer since she visited in January.
Q. The artists have been inspired by the Wild Garden, the design of which was in turn inspired by Victorian gardener and writer William Robinson. What were Robinson's design principles, and why were they an appropriate foundation for the Wild Garden?
A. Some of the ideas from Robinson's writings that have resonance for the artists were: the idea of cultivating plants from a range of regions and planting them as if they naturally occur; seeking an ecological balance; control versus abandon, starting with an idea but allowing for chance, or nature, to intervene.
Q. What do you hope visitors will take away from the exhibit?
A. I hope that visitors will take a fresh look at the Wild Garden and heighten their own observation of the plants and the experience of the garden. I also hope that the exhibit is a bridge for visitors who may not be familiar with contemporary art, a way to open their eyes and minds, and ultimately to make them feel both comfortable, engaged and excited by what artists are doing.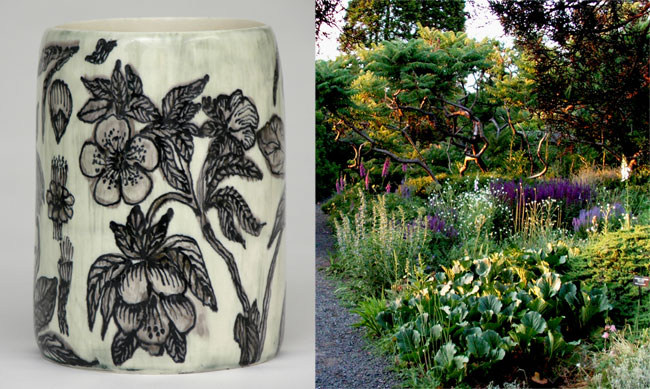 Anat Shiftan, Work in progress, 2012. Ceramic, 9" high x 6" diameter. Courtesy of the artist (left). Wave Hill Wild Garden in July. Photo credit Wave Hill (right).
Tending Toward the Untamed: Artists Respond to the Wild Garden will be at Wave Hill's Glyndor Gallery form April 3–August 19, 2012.
Address: 675 West 252nd Street, Bronx, NY.
Website: www.wavehill.org
Notes on images: The image of Gary Carsley's work is a detail of what will be in the show. The photos of Rebecca Morales and Julie Evans's work shows what will be in the show. Anat and Janelle will have these works, or something similar to them, in the show.
Anna Laurent is a writer and photographer. Her work explores how we look at plants, and how those plants behave.