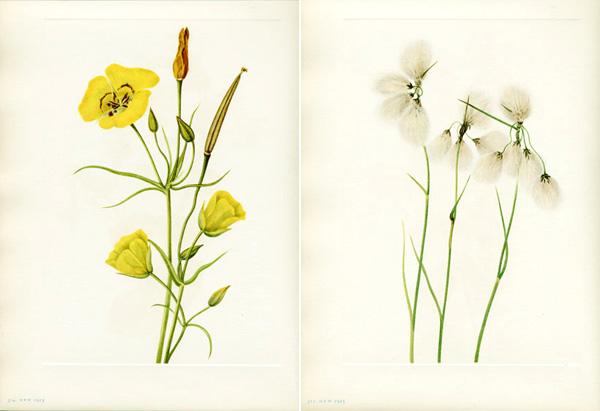 Photo by:
Mary Vaux Walcott; Goldenbowl mariposa (Calochortus concolor), Tassel cottongrass (Eriophorum viridicarinatum)
In 1925 the Smithsonian Institution published a five-volume collection of botanic illustrations titled North American Wild Flowers. The lengthy work cataloged plants that grew throughout the continent, with companion information about each specimen.
The book was useful for its listings of ubiquitous garden flowers and wild grasses, but the book's real triumph was two-fold: First, its geographic purview included remote crevices of Canada's Rocky Mountains, and the rare plants that grew in these less-traveled corners. Second, it was the work of one woman, Mary Vaux Walcott (1860-1940), an intrepid naturalist and amateur botanist, who, after the book's publication, was regarded as the "Audubon of Botany."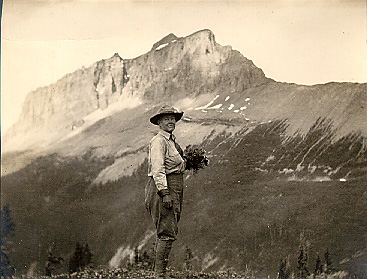 Mary Vaux Walcott collecting wild flowers in Canada, 1920s. Photographer unknown. Photo courtesy of Smithsonian Institute
Born into a wealthy Quaker family who spent their summers in the Canadian Rockies, Walcott would accompany her brothers as they surveyed glacial patterns and drafted topographical maps. Interested in the mountain's flora, she brought a camera, and, later, a drawing pad. One summer, a botanist requested a painting of a rare Arnica specimen, and thus began Wolcott's career as a watercolor artist. From then on, she traveled the terrain on foot or horseback (in 1900, she became the first woman to ascend a Canadian summit higher than 10,000 feet), exploring the Rockies by way of their significant flora. She wrote, "... nowhere else is there such a wealth of beauty and interest, and I conclude that the haunts so attractive to the world have no attraction for me. Of course golf is a fine game, but can it compare with a day on the trail, or scramble over the glacier, or even with a quiet day [before] tomorrow's conquests?"
In 1913, while on an expedition to the mountains, she met Dr. Charles Doolittle Walcott, an eminent geologist who had famously discovered the Burgess Shale fossils. They married and moved to Washington, D.C., where Dr. Walcott was secretary of the Smithsonian Institution. And every summer they returned to the Rockies, he as a geologist, she as a fledgling botanist and determined artist. Of the trips, Walcott wrote that they "afforded me a wonderful opportunity for intimate study of the flora, my aim being to collect and paint the finest specimens obtainable, and to depict the natural grace and beauty of the plant without conventional design." She included rare native orchids and unusual pitcher plants, among other common flora. Her work was scientifically accurate and beautifully rendered, and so well received that the Smithsonian collected 400 illustrations and published the five-volume North American Wild flowers.
Her contributions were not limited to her watercolors. In 1933, Walcott was elected president of the Society of Woman Geographers. From 1927 to 1932, she served on the federal Board of Indian Commissioners. And her legacy is honored in Jasper National Park, Alberta, Canada, where a mountain peak, Mount Mary Vaux, was named for her and her remarkable work.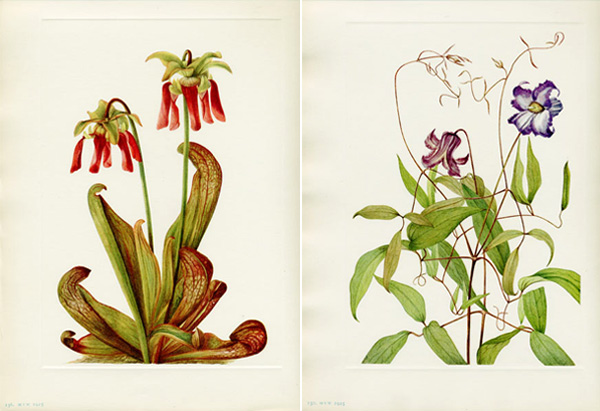 Parrot pitcherplant (Sarracenia psittacina), Curly clematis (Clematis crispa) (right); Mary Vaux Wolcott's North American Wildflowers (1925)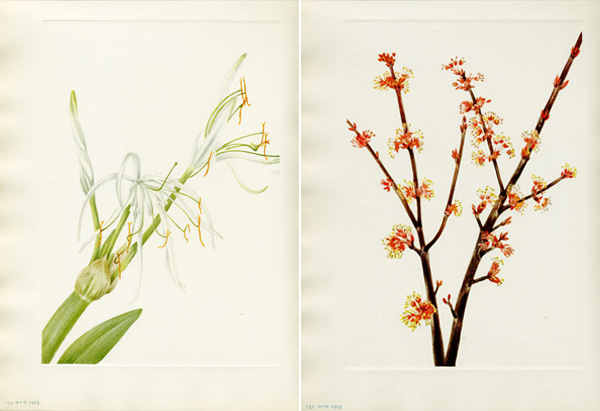 Spider Lily (left), Red maple (Acer rubrum) (right); Mary Vaux Wolcott's North American Wildflowers (1925)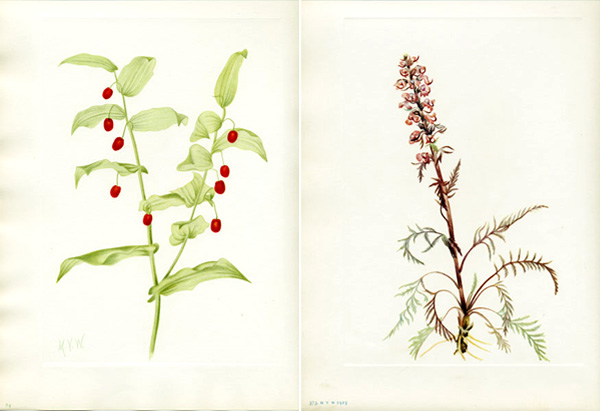 Clasping Twisted-stalk (Streptopus amplexifolius) (left), Elephanthead (Pedicularis groenlandica) (right); Mary Vaux Wolcott's North American Wildflowers (1925)
Anna Laurent is a writer and photographer. Her work explores how we look at plants, and how those plants behave.