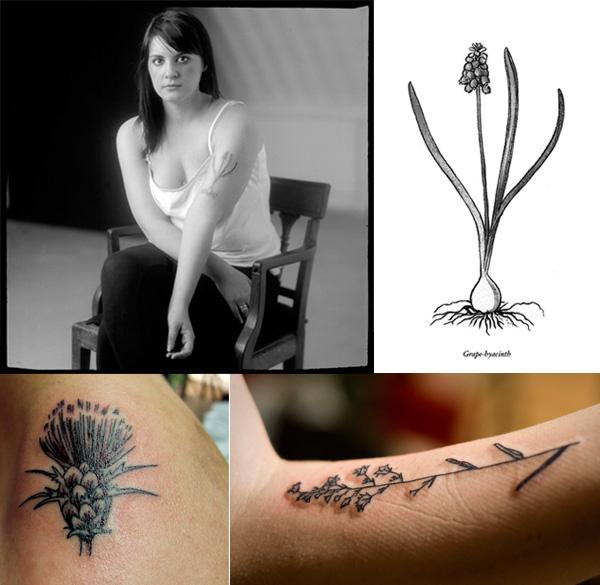 Photo by:
Grape Hyacinth (Muscari neglectum) on extInked participant, Photo credit: Anatomy Projects; and as illustration. Photo credit: James Edmondson
An endangered species is threatened with impermanence; its inked likeness is not. This is the founding metaphor of extInked, a project conceived by the Ultimate Holding Company, an art collective in Manchester, UK. A social experiment with an ecological initiative, the project paired a hundred of the country's threatened flora, fauna, and fungi with volunteers that would become ambassadors for their species—with a tattoo to prove it.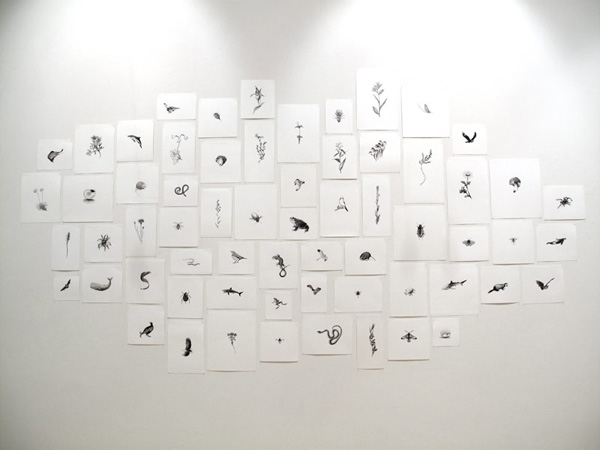 Illustrations of 100 endangered flora, fauna, and fungi species. All were tattooed on volunteers. Photo credit: James Edmondson.
The project launched in November 2009, the year of Charles Darwin's would-be 200th birthday. Collaborating with conservation organizations, the group identified a list of rare and endangered British species. Illustrations were made of the selections, and a public exhibit was installed for people to nominate themselves as ambassadors. Five hundred people applied, listing their choices and reasons for supporting the project. A hundred people were selected and were then tattooed with one of the hundred species, producing an army of citizens-turned-ecological-ambassadors.
Familiarity wasn't a prerequisite, as education was one of the project's goals. Some worked with preservation organizations, while others researched the native habitat of their species. Kelly, who was tattooed with the Tall Thrift (Armeria maritima) says, "I was keen to get to know my species, since we were going to be together for life." She became discouraged after researching her plant: "It seemed everything new I learnt about the species made it even more hopeless. But it didn't have to be this way ... The biggest threat to the tall thrift is ignorance." After finding the plant in one of its few natural habitats, she collected seeds to plant in Manchester.
A recent exhibit, "We Are extInked," displayed the original specimen drawings, documentary footage of the project, and photographs of the tattoos and their owners. All photos were shot on a 19th century studio plate camera by the Anatomy Projects. Installed at the Royal Botanic Garden Edinburgh, the exhibit also includeed dried specimens from the Herbarium. "We Are extInked" ends today, but now travels to the Rugby Art Gallery & Museum, in Rugby, where it will be up from September through November 2012.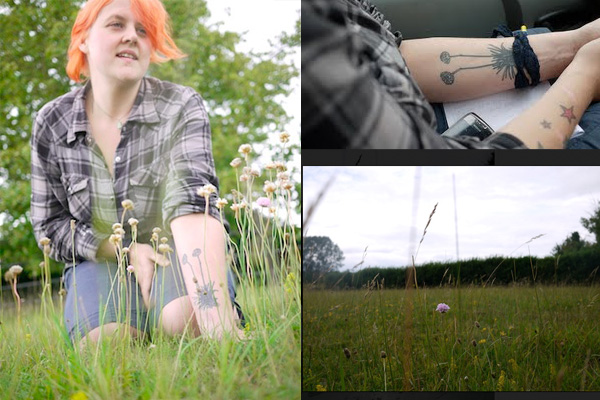 Kelly Parish, ambassador of the Tall Thrift (Armeria maritima), searches for her flower at a Lincolnshire Wildlife Trust nature reseve, 2011. Photo credit: Anatomy Projects.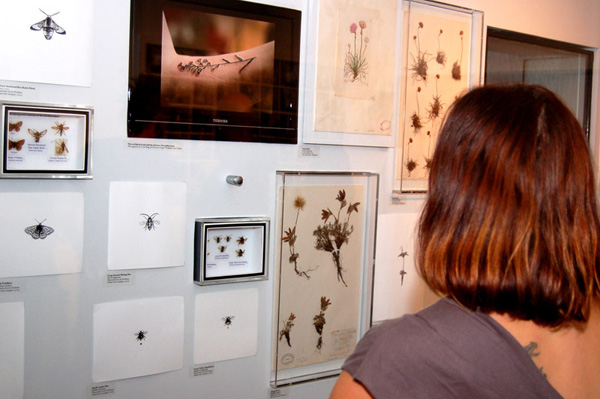 "We Are extInked" exhibit launch at the Manchester Museum, 2001. Photo credit James Edmondson.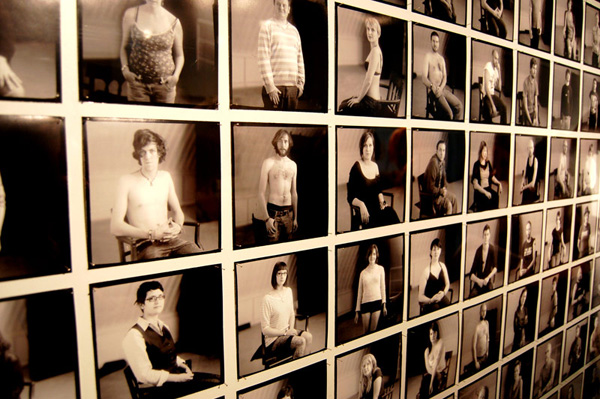 Portraits of 100 ambassadors, from "We Are extInked" exhibit. Photo credit: Anatomy Projects.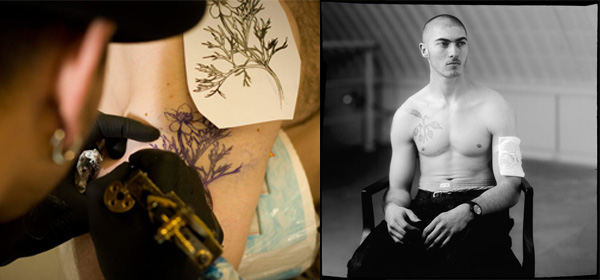 2009 inking (left), photo credit: extInked; An ambassador (right) photo credit: Anatomy Projects.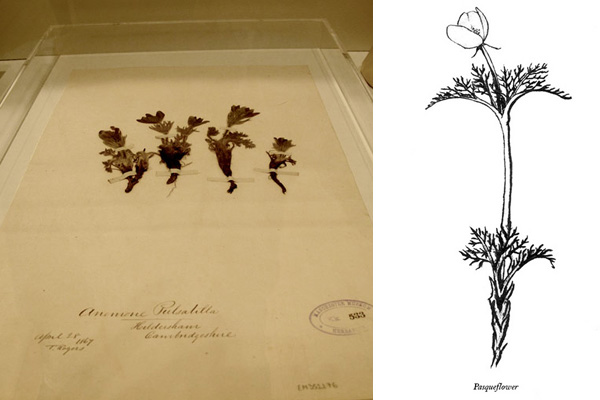 Pasqueflower (Pulsatilla) specimens at the "We Are ExtInked" exhibit (left). Photo credit: James Edmondson; Pasqueflower tattoo illustration (right). Photo & illustration credit: Jai Redman.
Below is a list of the Flora & Fungi included in the project. A full list of species is here.
FLORA
Alpine Blue sow thistle (Cicerbita alpina)
Arctic Mouse Ear (Cerastium arcticum)
Camomile (Chamaemelum nobile)
Coral Necklace (Illecebrum verticillatum)
Cornflower (Centaurea cyanus)
Fly Orchid (Ophrys insectifera)
Grape-hyacinth (Muscari neglectum)
Irish Lady's Tresses (Spiranthes romanzoffiana)
Lady`s Slipper Orchid (Cypripedium calceolus)
Lesser Butterfly Orchid (Platanthera bifolia)
Monkey Orchid (Orchis simia)
Narrow-leaved Helleborine (Cephalanthera longifolia)
Pasqueflower (Pulsatilla vulgaris)
Pheasant's Eye (Adonis annua)
Rampion Bellflower (Campanula rapunciloides)
Red Helleborine (Cephalanthera rubra)
Red Star Thistle (Centaurea calcitrapa)
Tall Thrift (Armeria maritima)
Tower Mustard (Arabis glabra)
Twin Flower (Linnaea borealis)
Wild Candytuft (Iberis amara)
FUNGI
Beautiful Bonnet (Mycena renati)
Big Blue Pinkgill (Entoloma bloxamii)
Elegant Earthstar (Geastrum elegans)
Orange Chanterelle (Cantharellus friesii)
Anna Laurent is a writer and photographer. www.annalaurent.com