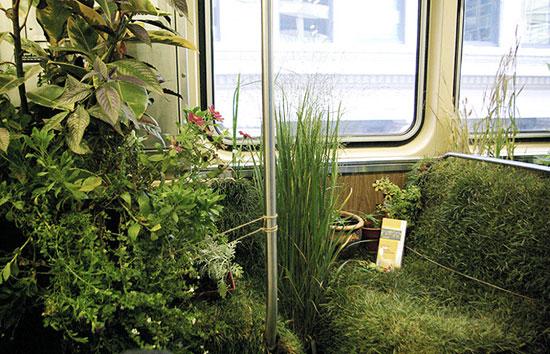 A window fringed with lime greens is a lovely vantage point from which to view anything, particularly the concrete skyline of an urban horizon. And that's how passengers on Chicago's CTA train experienced their city on a Saturday afternoon on September 17th—aboard a train car transformed into a mobile garden of native plants and carpets of grass. Passengers shared seat-space with potted flowers, and pole-space with climbing vines. Plants hung from the ceiling, grew from the floor, and peeked out the windows.
The garden installation was part of Art on Track, a day-long event in which Chicago artists designed site-specific exhibits in CTA train cars; the museum circled the Chicago loop for half of the day.
Photo credit: noisivelvet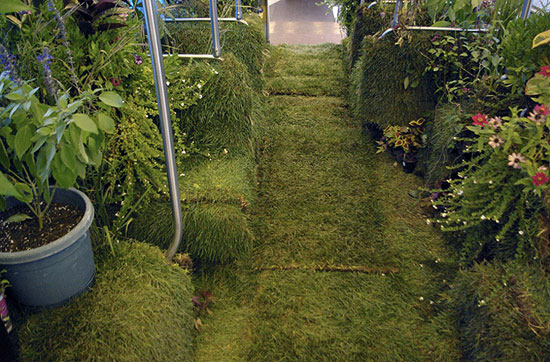 Photo credit: noisivelvet
Cultivated from botanic donations from local gardens, farms, and arboretums, the train oasis, called Mobile Garden, was designed by a non-profit arts group called noisivelvet. While their Art on Track installation was a one-day production, they have submitted a proposal to the city for one that would last a month: an garden bed that would be pulled behind a train car in the open air. According to Mobile Garden, "The basic concept that artist Joe Baldwin came up with is to build a garden on a flatcar train and to let it travel with the Chicago Transit Authority (CTA) as part of their regular transit service. Because of its conditions, the ideal plants for the mobile garden are native plants that require low water and low maintenance. This also allows the opportunity to highlight the importance of native plants in the community." Among the plants it would include are coreopsis, columbine, and Jack-in-the-Pulpit. Forthcoming, hopefully!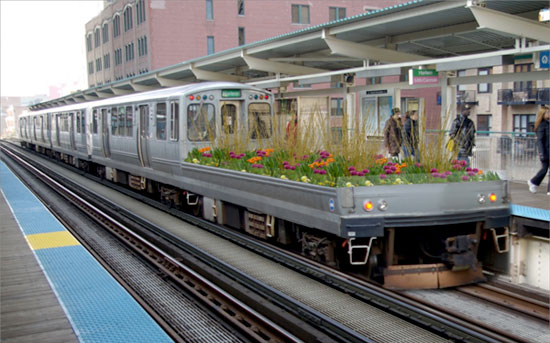 Rendering of the proposed flat bed garden. Photo credit: noisivelvet
Anna Laurent is a writer and producer of educational botanical media. Photographs from her forthcoming field guide to Los Angeles are available for exhibition and purchase at the author's shop.