Photo by:
Skoklosters Slott, Sweden; Arcimboldo's Vertumnus (1591)
During the holiday season, food and feasting seem to be everywhere. And so it is an appropriate time to enjoy the work of Guiseppe Arcimboldo (1526-1593), a Renaissance artist who painted a surreal flavor of still-life: portraits composed of fruit, vegetables, and flowers.
Born into a notable Milanese family of artists and archbishops, Arcimboldo spent his early years designing stained glass and frescoes for cathedrals,including the Duomo. In 1562 he became a darling among the Hapsburgs; he was swept up by a series of emperors who delighted in Arcimboldo's peculiar visions. Under Maximilian II, the young artist cultivated his style as the imperial family's gala designer—affairs decorated with gilded fountains, pageantry, and flocks of colored birds; under Rudolf II, he became the court portraitist and he began to paint a series of portraits that portrayed the face of the cognoscenti through its tables, gardens, and the natural world.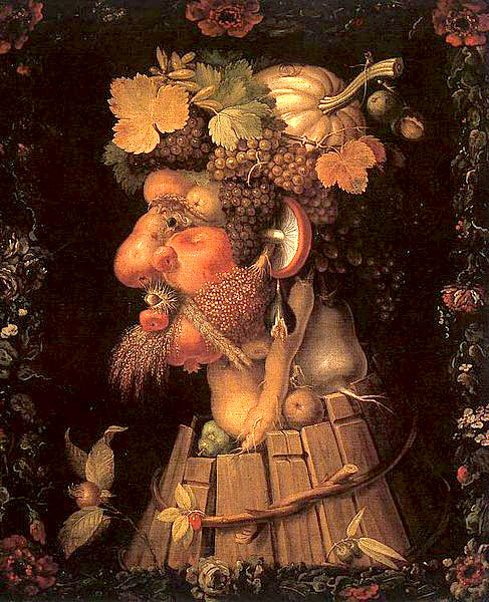 Giuseppe Arcimboldo's L'Autunno (Autumn), 1573, oil on canvas. Louvre Museum, Paris.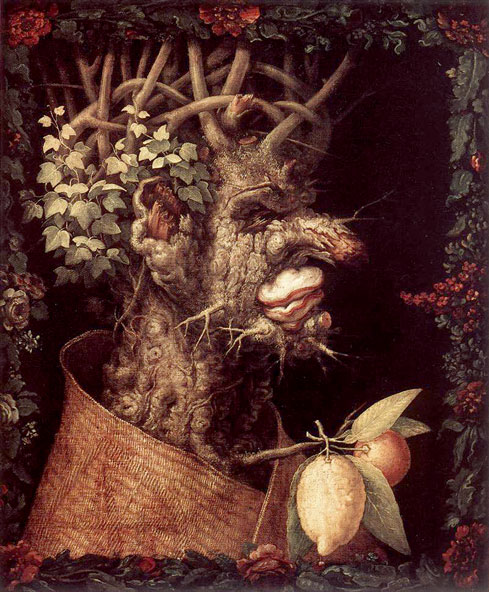 Giuseppe Arcimboldo's L'Inverno (Winter), 1573, oil on canvas. Louvre Museum, Paris.
Arcimboldo's most ardent fan was Hapsburg emperor Rudolf II, considered to be the greatest arts patron of the time. Arcimboldo's most famous work, Vertumnus, is a portrait of Rudolf II, named after the Roman god of gardens, plant cycles, and fruit trees. The artist also painted natural themes, such as the Four Seasons paintings, a series of seasons personified. This series, along with the Four Elements series, was very well received by Arcimboldo's royal employer; in 1571, Maximillian II and his court dressed up as the seasons and elements for a festival orchestrated by Arcimboldo (the Emperor played winter).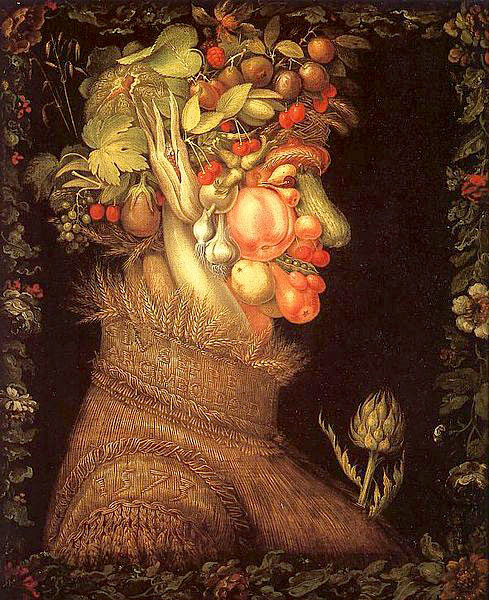 Giuseppe Arcimboldo's L'Estate (Summer), 1573, oil on canvas. Louvre Museum, Paris.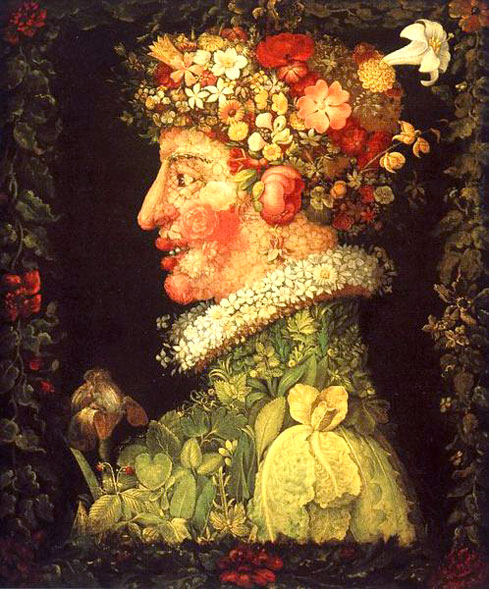 Giuseppe Arcimboldo's La Primavera (Spring), 1573, oil on canvas. Real Academia de Bellas Artes de San Fernando, Madrid.
Composed of fruits, grains, vegetables, and flowers, Arcimboldo's portraits are an illustration of the imperial world as the artist knew it: courts filled with fantastical art and sensory luxury, tables strewn with exotic fruits and flowers, and a sense that the Hapsburg empire enjoyed a boundless kingdom, and the knowledge included therein. The composite pictures include rare cultivars and species at the time, such as corn and eggplant, that were imported from faraway lands and those that recognized these vegetables knew their value. All his plants were scientifically accurate and identifiable—an attention to scientific detail that illustrated an emphasis on natural studies within the Hapsburg empire and the Renaissance world.
Despite his popularity, Arcimboldo's work all but disappeared with his death in 1593, and resurfaced three hundred years later, when Pablo Picasso, René Magritte, and Salvador Dalí invoked Arcimboldo's curious anthropomorphism and unexpected humor. Dalí called Arcomboldi the "father of Surrealism." Today, the paintings are in public and private collections around the world, exhibits of both Surreal and Renaissance work, and even in a sticker book for the young artist.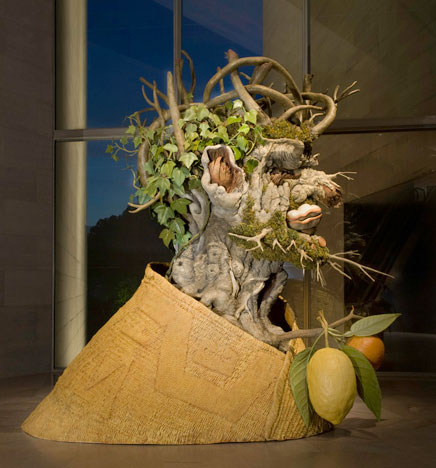 American artist Philip Haas' 15-foot tall sculpture Winter (After Arcimboldo), for Arcimboldo: Nature and Fantasy, a 2010 exhibit at the National Gallery of Art, Washington D.C. Photo credit: Rob Shelley.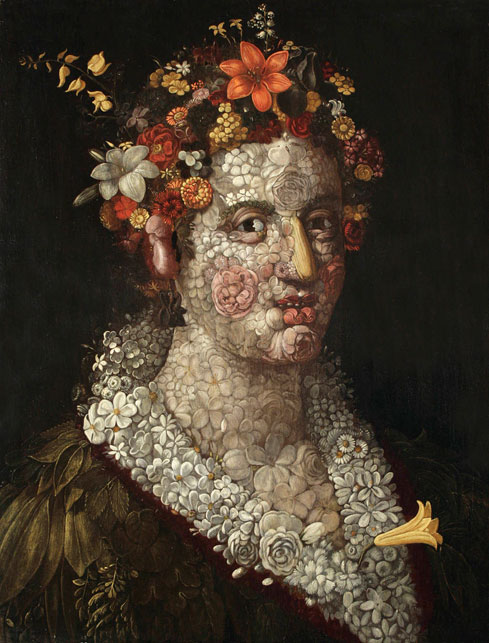 Giuseppe Arcimboldo's Flora, 1591, oil on canvas. Private collection, Paris.
Anna Laurent is a writer and producer of educational botanical media. Photographs from her forthcoming field guide to Los Angeles are available for exhibition and purchase at her website.