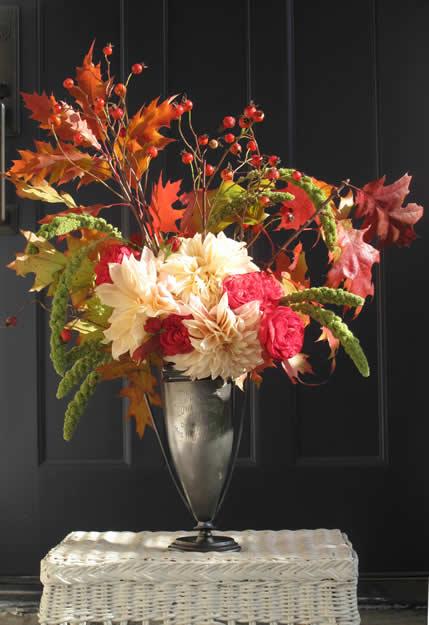 How do you put together an elegant floral arrangement? The same way you make a delicious meal…with a recipe. Nature offers us many flavors from fresh blooms and ornamental twigs to colorful foliage and gorgeous vines. This holiday season while you peruse recipes for family gatherings, why not serve up a bountiful autumn arrangement alongside.
Using seasonal flowers and foliage from local gardens, author Debra Prinzing shows how to arrange seasonal bouquets in her new book, Slow Flowers. Like an easy-to-use cookbook, Slow Flowers features vivid images of each finished bouquet, a thorough ingredient list and step-by-step design instructions.
Glistening red rose hips, branches of burnished leaves and green millet are stunning examples of the three ingredients Prinzing says are needed to create a classic floral arrangement.
Follow these three tips to achieve Prinzing's artful looks:
1) Choose the diva—an eye-catching, dramatic bloom with a symmetrical or dome-shaped form, such as rose, peony or dahlia.
2) Add taller ingredients to emerge from the main cluster of diva flowers, such as flowering, fruiting or foliage-laden branches.
3) Add softer elements to drape over the edge of the vase, dripping like chandelier crystals.
Prinzing's 'A (Loving) Cup Full of Autumn' arrangement (pictured) is a reminder of the fruits of the harvest. Get started on your holiday table arrangement with this autumn recipe from Slow Flowers:
INGREDIENTS
5 STEMS Rosa 'Piano Freiland'
3 stems Dahlia 'Café au Lait'
9 blades green millet (Setaria italic 'highlander')
3 stems scarlet oak foliage (Quercus coccinea)
3 stems wild rose hips
VASE
The tarnished, metallic hue of a vintage, silver-loving cup complements this arrangement. Size: 10 ½ inch tall x 4inch diameter
Want more four season ideas and inspiration for floral arrangements? Pick up a copy of Slow Flowers.