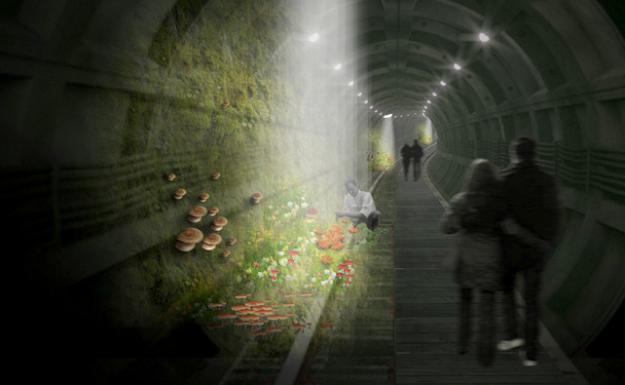 Photo by:
Fletcher Priest Architects
Perceived as exotic and difficult to grow, prized for their unique textures and taste, mushrooms are something of an orchid and an oyster. Edible fungi are beloved by gourmands, and many varieties grow within reach of a foraging basket, if you know where to look. And their popularity thrives outside the forest and kitchen—photographer The Selby has produced a couple short films about mushroom hunters; I attended a mushroom evening at the Hammer Museum in Los Angeles, during which I was entertained & educated by mycology academics, mushroom enthusiasts, and a young man dressed as a chantarelle; then there's the new documentary "Now Foragers," about a couple who forages in New York City; while we're on the topic, I recall W editor Kevin West mentioning to me his plans for a book on mushrooms. That was several years ago, and mushrooms show no sign of retreating to their dark nooks.

Or, rather, they remain in their dark nooks, it's just that they now beckon to us to collect, cultivate, and, quite possibly, build a public park for them. Yes, that's right, the allure of mushrooms has made it to the world of urban planning, as evidenced by a recent design competition in London.
Inspired by New York's High Line Project, the Mayor of London initiated the Green London Ideas Competition, which solicited proposals to transform abandoned urban areas into green public spaces. The winner, "Pop Down," by Fletcher Priest Architects, imagines cultivating a mushroom garden in a nine-foot wide underground tunnel that was formerly navigated exclusively by post office workers to deliver packages away from the street bustle.
The architects imagine that the "underground oasis for mosses, lichen and funghi" will likewise be a calm respite for Londoners. After all, London weather is rarely good, and Oxford Street, under which the mushroom garden would grow, is a tangled space to navigate. Why not avoid the congestion with underground mushrooms?
Even those who opt not to venture below will benefit from the design: The architects have designed fibreoptic mushroom sculptures that will sit on the street level on holes in the ground, providing light for the mushrooms below and also mapping & advertising the tunnel's path for street pedestrians. The proposal especially invites chefs and entrepreneurs to forage the tunnel's mushrooms for any new fungi-themed restaurants along the route at street level.
Will it happen? Maybe. This was merely the winner of a design competition, and still needs funding to grow (a shortlist of other proposals is here). Either way, underground parks seem to be reaching the drafting table with frequency—in September, an exhibit in New York showed plans for their own "Lowline." Fletcher Priest Architects commented: "We are actively looking at the next steps for proposal. It is a very exciting opportunity to explore the possibility of opening up spectacular hidden spaces."
Judges included Joshua David and Robert Hammond, co-founders of New York's High Line, Dr Penelope Curtis, Director of Tate Britain, Mark Brearley, Head of Design for London, and leading landscape architects Kim Wilkie and Jo Gibbons.