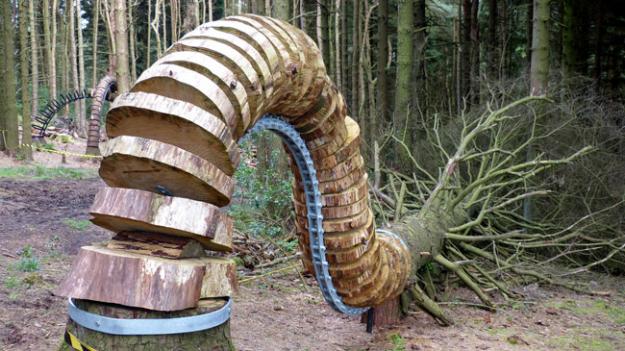 Photo by:
ARG_Flickr. "Reconnected 2," Philippe Hanford
In August 1612, ten people in idyllic Pendle Hill, Lancashire were found guilty of witchcraft and sentenced to death by hanging. In August 2012, a public exhibit opened to commemorate these convictions, and others in England's centuries-long witch hunt. Winding through the rural landscape, Pendle Sculpture Trail features site-specific environmental art by four artists. Many of the pieces use fallen trees to represent the dead, and the Pendle Sculpture Trail becomes a celebration of life in both forms.
Artist Philippe Hanford conceived of the project's parameters: To design work inspired by the natural resources of Pendle Hill, and to pay homage to its dark history, now 400 years ago, though still alive in local culture. Hanford proposed the project in 2010, and artists Sarah McDade, Steve Blaylock, and Martyn Bednarczuk joined the list of designers.
Hanford's sculptures use mostly locally-sourced natural materials including felled trees, holly bushes, and a stone wall that traverses the length of the wood. The most prominent piece, titled "Reconnected 2," uses metal and wood to reconstruct the weight and movement of a falling tree. Hanford tells MyModernMet: "My work on the trail is site specific and inspired by the location. Both "Reconnected 1" and "2" are on the site of illegally felled trees … The piece has practical considerations so a metal support structure is required but kept to a minimum so as not to detract from the natural element … Each trunk slice is supported by a bracket that is individually bolted to the frame. The two ends of the curved steel is welded to a ring that fits the profile of the trunk." In another piece, Hanford has contained holly bushes, which ancient Druids called "spirits of the wood," within metal cages sculpted into human forms.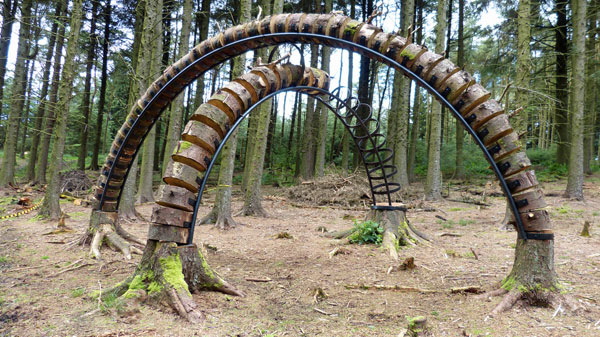 Hanford's "Reconnected 2." Photo credit: Philippe Hanford
Artist Sarah McDade designed 10 ceramic plaques to represent each of the local people condemned. She placed each plaque on a tree stump with embedded images of herbs and plants used in 1612. She also designed a 2-meter tall stoneware sculpture, carved with lines and symbols representing the forest's topography.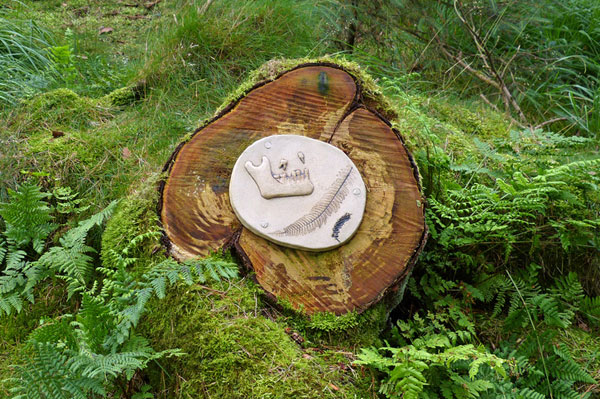 A plaque by Sarah McDade honors the 1612 hanging of Pendle Hill local Anne Whittle, whose teeth are said to have "rattled," condemning her as a witch. Photo credit: ARG_Flickr.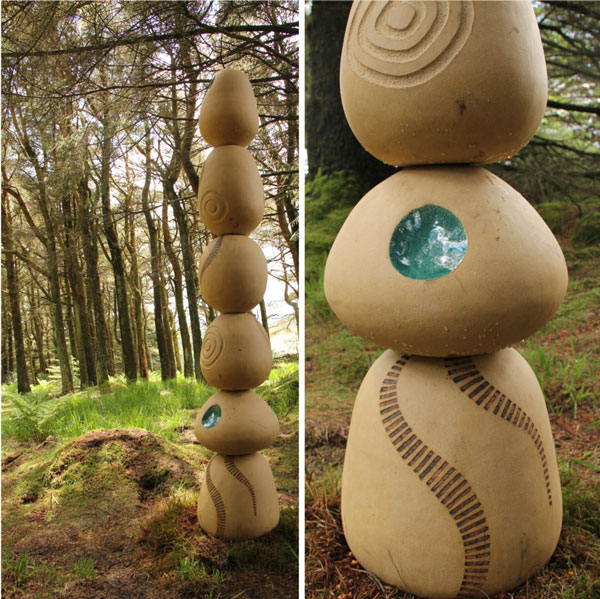 A Pendle Hill stoneware totem. Photo credit: Sarah McDade.
UK-Artist
Steve Blaylock
designed a metaphor and a collection of stainless steel woodland animals—a spider on a web, a swarm of bats, and an omniscient owl.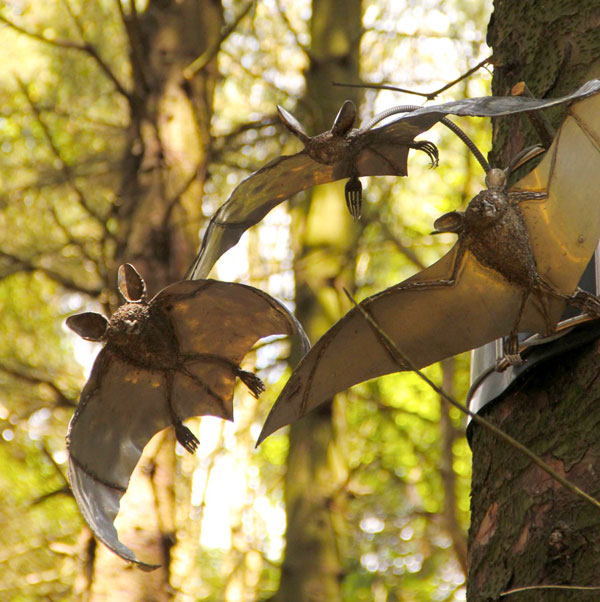 Blaylock's bats. Photo credit: Steve Blaylock.
Sculptor Martyn Bednarczuk carved a life size "Witch Finder General" from solid oak. Bednarczuk based the figure on Roger Nowell, the local magistrate who first interrogated the Pendle villagers.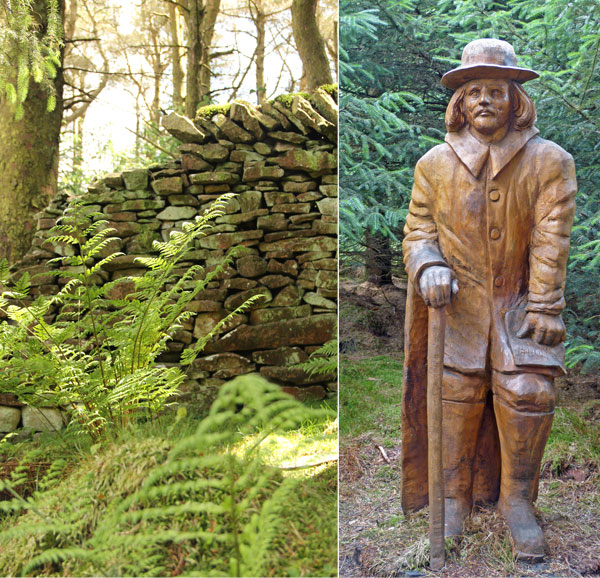 Pendle Hill's idyllic sun-dappled ferns and mosses, and the newly-installed "Witch Finder General." Photo credit: Martyn Bednarczuk
Pendle Hill Trail is open to the public. Information about visiting is here.