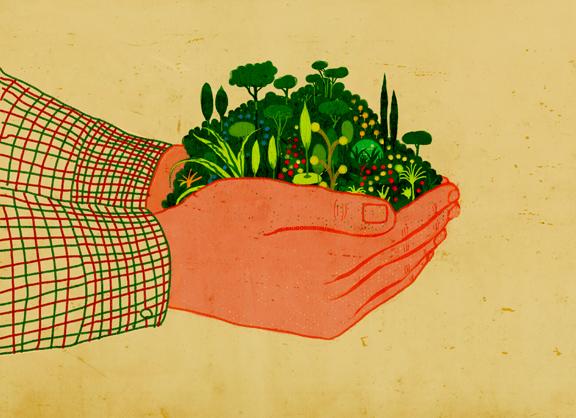 Photo by:
Beppe Giacobbe/Morgan Gaynin
You've spent years training your roses, pruning your Japanese maple, and preventing invasive vines from overtaking your trees. Will you gamble it all for a summer vacation? "I hired the neighbor's kids to take care of my garden while I was away," says Pamela Horvitz, a passionate gardener in Pittsburgh. "When I came back, things looked so bad that I wanted to cry." Instead, the former office manager began a new life as a garden sitter.
Horvitz has company. For $20 a visit, Heather Dove, of Easton, Maryland, waters and weeds, but for an additional fee (she has been known to barter for wine, babysitting, and blue crabs), Dove also boards clients' neediest specimens (like banana plants) in her greenhouse and checks for aphids, slugs, and Japanese beetles. In Bend, Oregon, Jane Bowerman, an owner of the garden services company Grow, will tend your vegetables. "We get freezing temperatures any time of year here, so we closely monitor the weather and can run over to a client's house in the middle of the day to cover things up," says Bowerman. She will even pick your zucchini and leave it in a basket on your steps for neighbors to claim. "People think they can't have a garden because they'll be gone for a month, but we watch it for them," she says. "When they get back, they still get to enjoy the harvest."
If you don't need this level of horticultural help, look to a friend or a trustworthy teen. Pam Penick, an Austin, Texas, landscape designer, devotes her property to vegetables. Before decamping to the East Coast for two weeks two summers ago, she paid her neighbor's niece $100 to "drag the hoses around." She was happy (though surprised, she admits) to find even vulnerable potted plants thriving on her return.
A Garden Sitter's Guide:
1. Draw a bird's-eye view of your garden for your sitter, labeling the plants and pointing to those needing special care.
2. Walk the property with the sitter, and point out plants that might look like a weed but aren't.
3. Show novices how to water properly, from where to set up sprinklers to how long to water.
4. Make a to-do list. "Be very clear about what you expect," says Penick. Write down the details; no sitter will remember everything.
5. If you'll be away for less than two weeks, you'll likely need only watering. Move containers into the shade, and group pots according to their water needs. (Most sitters won't go in your house.) If you'll be gone for a month, the sitter should weed and prune. For longer absences, hire a professional landscaping company, and be prepared to pay more.
6. Give the sitter a key to all storage areas, and point out hoses and shut-off valves. "I once carried buckets of water from a faucet," says Dove, "but there was a working hose hidden around the side of the house."
7. If you have a sprinkler system, give the sitter the installer's contact information, as well as your own. Assign a backup decision maker too, in case you're unreachable while away.
If you don't have a sitter, ask friends for recommendations or inquire at a local garden center.