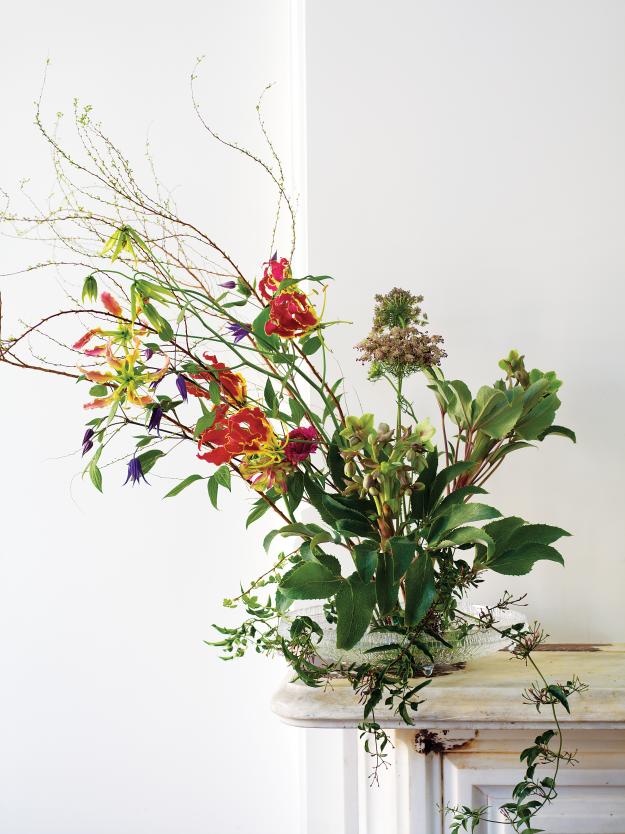 Photo by:
Pia Ulin; floral styling by Viki Rutsch
A low glass bowl, outfitted with a flower frog, makes an elegant base for a tall, whimsical arrangement. Ultima Thule Footed Centerpiece Bowl by iittala, $132; finnstyle.com.
See also: Tools of the Trade, Long-Lasting Flowers and Greens, Vase Variety and Flower Frogs
Like good china and certain relatives, flower arrangements are often regarded with a strange mixture of affection and trepidation. Trotted out on special occasions, they are admired, praised, and then hastily retired. But it's not this way everywhere; in much of Europe, people routinely toss fresh flowers into shopping baskets alongside the milk. Following their lead (and thanks to the current mania in this country for all things DIY), this relaxed attitude has crossed the Atlantic to stateside floraphiles. And so gardeners who are savvy about growing but little versed in tabletop composition are heading off to class. "Flower arranging has become much more popular in the past couple of years," says Nicolette Owen, who, along with Sarah Ryhanen, runs the Brooklyn, New York–based Little Flower School, which offers courses like Ranunculus Revisited and Dutch Masters. And across the East River, in a shop in Midtown Manhattan, enrollment among twenty- and thirtysomethings is up at FlowerSchool New York. "It used to be like the garden club, but it's become more hip," says director Eileen Johnson. "People are interested in entertaining, and there's a lot of crossover between cooking and entertaining and flowers."
Even seasoned gardeners, used to planting flowers in quantity, might be at a loss when it comes to arranging them. But experts insist that such floralphobia is easily surmounted. Half the battle is realizing that the goal doesn't have to be something elaborate or perfectly "done." The current vogue for more organic, looser, less-formal constructions may help explain the burgeoning interest. "There's a world of possibilities between buying an arrangement from a florist and just sticking a bunch of tulips in a vase," says Johnson.
Owen's principles of design suggest a surprisingly straightforward process: Build a foundation using woody stems or branches, add showier blooms, and finish with gestural elements—smaller, wispier accents. Johnson advises beginners to keep it simple. "Color mixing is a skill that takes time, so stay as close to monochromatic as you can. Group flowers of the same type together, to avoid ending up with a polka-dot look."
Having the right tools also smooths the way and expands your sense of options. If you have a variety of vessels on hand and an awareness of the magic of floral foam, frogs, and wire, a bunch of flowers from the supermarket can seem a lot more appealing. Much like legendary florist Constance Spry, who believed that flower arranging shouldn't be reserved for the rich, you might eventually find yourself exploring the creative potential of kale and gravy boats. As Spry herself said in 1957, all it takes is a few flowers and a little creativity to make anyone feel "like a millionaire for a few pence."

This article was first published in Garden Design
April 2011