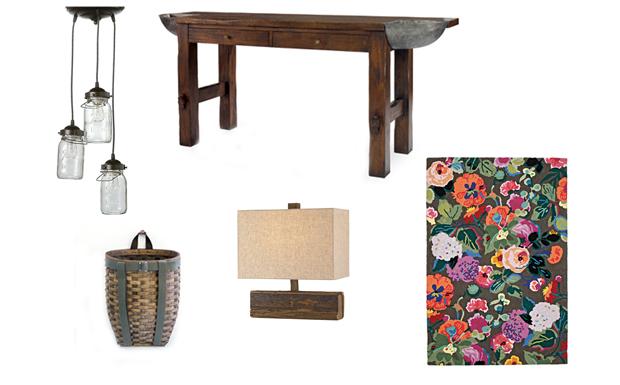 As the last blooms of the garden fade, the frost takes away more than just the fruits of our labors—we lose entire months of alfresco pleasures. But the dedicated (or obsessed) among us have figured out a way to bring the outdoors in. Here are our picks for adding a touch of the natural to winter's doldrums with rustic materials and garden-inspired accoutrements—and without the perennially dirty fingernails and bug-bitten limbs of summer.
1.  Forget hours spent over the stove turning the season's harvest into preserves; Terrain saves you the work by upcycling vintage canning jars into a whimsical pendant light. ($398; shopterrain.com)
2.  Century Furniture's mahogany potting bench provides a surface for displaying and working with indoor plants and neatly doubles as a bar table with its two removable steel buckets. ($3,750; centuryfurniture.com)
3.  Anthropologie's soft hooked rug, dotted with the colorful florals of spring and summer, means a bounty perennially blooms underfoot, even on winter's most barren days. ($348;anthropologie.com)
4.  Natural textures infiltrate the interior by way of the weathered wood base and natural linen of this Terrain lamp; its squat, midcentury shape adds an architectural nod to this otherwise rustic piece. ($398; shopterrain.com)
5.  Originally intended for foraging edibles in the wilderness, an Adirondack-style hand-woven ash basket from Brook Farm General Store neatly stores garden accessories or hides household clutter. ($125; brookfarmgeneralstore.com)
Katie Mendelson is the assistant editor of GARDEN DESIGN.