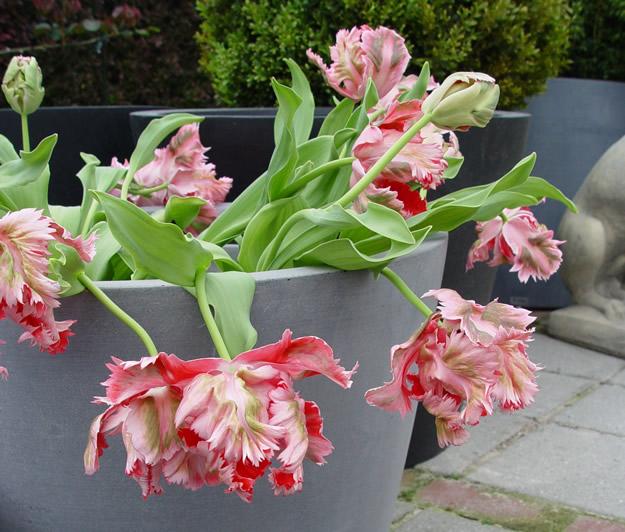 Contemporary gardens are losing their flowers. Sure, big color isn't for everyone, and there's no denying the appeal of easy care ornamental grasses and water conserving succulents. But there's one plant routinely overlooked that may offer a fabulous display that won't fight your minimalist design, but enhance it. They are the parrot tulips, which are magnificently free to flower in the most curious colors and shapes. These twisted beauties are planted in the fall for unexpected seasonal delights.
TWEET THIS:
Parrot tulips offer a fabulous display that won't fight a minimalist design.
Not all tulips belong here because the picture perfect tulips are just as streamlined and rigid as the architecture and hardscape. Parrots, conversely, are unpredictable and exciting in form and color. These petals are frilled, striped, crunched and curled, offering striking contrast against the rigid surfaces and shapes that define modern elements in gardens. These pink examples are a perfect match for industrial grey palettes. Black parrots are astounding against speckled granite.
There's no end to ways these flowers make contemporary landscapes sing in the spring. They create a touchstone of the season to come amidst the domes of dormant grasses. In pots or in ground, think of parrots as music to accompany your landscape architecture. While traditional tulips may evoke strains of stayed symphonies, parrot tulips are pure jazz.