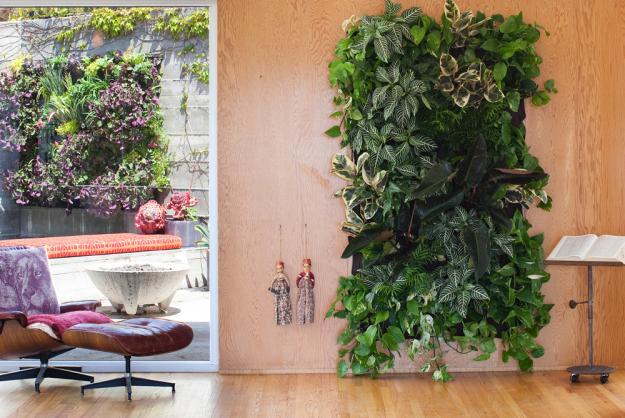 Vertical gardening is becoming all the rage. In even the smallest spaces, you can plant up instead of out with modular pocket planters like those from Woolly Pocket. Design your own green living wall virtually anywhere indoors or outdoors. Snip herbs right off a hanging herb garden in the kitchen, plant an ornamental wall in the living room, a vertical edible garden on your small balcony, or use your own creativity!
Consider starting with a small pocket planter, like the Wally One, whose breathable soft-sided pockets are made in the good 'ol USA from 100% recycled plastic water bottles. As easy as hanging a picture, Wally comes with all the necessary hardware. You can use one alone or add a few to create a variety of shapes to fit your particular space. If you can think it up, your Wally will hang in there for you.
Five Easy Steps
1. Hang your Pocket planter in a place that gets the right amount of sunlight for your selected plants.
2. Space the grommets 22" apart by measuring that distance on the wall, then mark where the grommet holes will be placed.
3. Drill the holes.
4. Slide fasteners into the holes.
5. Screw your pocket planter into the fasteners and start planting!
Like Building Blocks
You can creatively configure your vertical garden by hanging multiple Wallys. By horizontally overlapping the pockets' grommets, spacing them 13" apart vertically (from grommet to grommet), you hide the grommets and ensure that the plants have enough space to thrive yet is still dense enough to create a lush living wall.
What Pocket Planters Drink
Planters like the Wally enjoy filtered water best. One cup of water about once a week is usually sufficient for quenching your planter's thirst. The Wallys have a "tongue"– a felt flap inside the pocket that's on top of their moisture barrier. That way it absorbs the water and wicks it down to the plants' roots. Simply water the tongue directly and any excess water in the reservoir will evaporate through the pocket's breathable sides—it prevents overwatering while conserving water at the same time.
Moist Plants, Dry Floors
Don't worry about your floors and carpets getting wet. The military grade built-in moisture barrier creates a reservoir that will protect your walls and floors.
Ready to go vertical? Buy your favorite Woolly Pocket here and save up to 30% now! And don't forget to send us pictures of your finished walls and we'll post them!