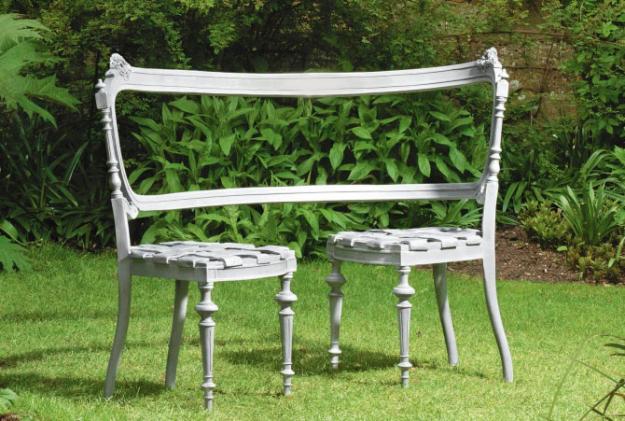 Lathe X (2010), an aluminum bench by Amsterdam-based designer Sebastian Brajkovic
When design aficionados descend on Miami Beach each December for the highly anticipated Design Miami, expectations are high for chic and luxurious examples of furniture and other wares by the heavyweights of 20th- and 21st-century design. At this year's edition, which included 36 exhibitors in a tent beside Art Basel Miami Beach — the epic contemporary art fair and sister event to Design Miami — blue-chip pieces by designers ranging from Le Corbusier to Mark Newson were certainly in abundance. But what stood out most were the refreshingly creative experiments with outdoor-friendly materials by a younger generation of designers.
Resin is a hot material these days, and two design collectives–Snarkitecture and Nucleo – are cleverly using it to merge as sense of the organic and manmade. The Brooklyn-based firm Snarkitecture, which transformed the fair's entrance into a soothing white sea anemone-like cavern with dozens of giant, inflated white tubes hanging from the ceiling, had an intriguing series of limited-edition shelves, a bench, and a table the booth of Chicago gallery Volumes. Cast from a mix of marble dust and resin, the pieces are crisp, white, and pristine, yet appear to be eroding or decaying underneath (pictured below).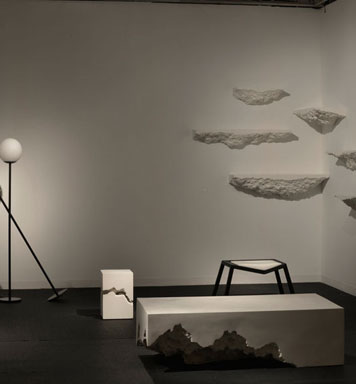 The passing of time is also invoked in the cast-resin furniture of design collective Nucleo (Piergiorgio Robino and Stefania Fersini) , at the stand of Cologne, Germany-based dealer Gabrielle Amman. Titled Resinite, the series includes the large, pale yellow Resin Fossil dining table (2012; pictured below), whose contours echo those of geological formations. It was conceived as an "imprint of the future" or a "fossil of itself," says Amman. It's easy to imagine the table, with its ethereal translucence and ancient sensibility, as a post-industrial relic looming beautifully ghostlike in an overgrown garden.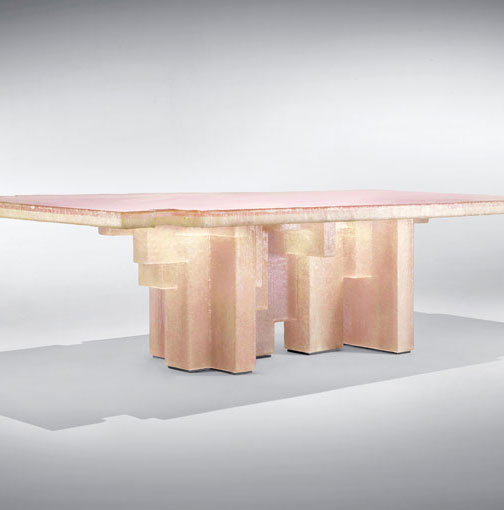 Seemingly more traditional but just as experimental and playful was Lathe X (2010), an aluminum bench (pictured at top of page) by Amsterdam-based designer Sebastian Brajkovic at the stand of London gallery Carpenters Workshop. The decorative metalwork evokes 19th-century cast-iron furniture, and the piece was originally designed for a show at England's Sudeley Castle, but Brajkovic shapes his materials in unlikely ways. In this case, he joined two chairs to form a kind of bench where sitters face different directions.
There is a long tradition of finding inspiration in nature, but several examples at the fair really brought the outside inside. In his ornamental bronze, porcelain, crystal, and steel tabletop and wall-hung creations at R 20th Century's stand, for instance, David Wiseman captures a sense of the fleeting beauty of some of nature's most cherished species: cherry blossoms, pomegranates, lovebirds, owls. Ceramics dealer Jason Jacques, meanwhile, had one of the most striking botanical representations at the show: Danish designer Axel Salto's 1940s green stoneware vase encased in vines (pictured below) that look as though they grew as organically as a tangle of greenery in the jungle.