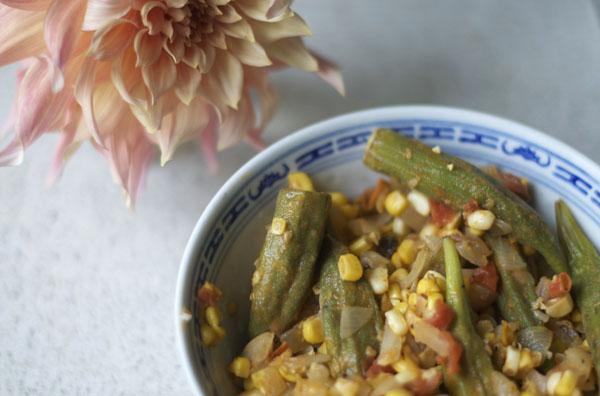 Photo by:
Katie Mendelson
It's full on Indian summer here in New York—minus the late afternoon darkness, you'd hardly know that it's about to be October, what with these muggy days. I have to admit that I'm ready for the crisp air and cozy sweaters of fall, though I know I'll be kicking myself come the dark days of winter. What I'm loving about this prolonged summer, though, is the produce that's been continuing to pop up at the farmer's market and in my CSA, including late-summer veggies like corn and tomatoes.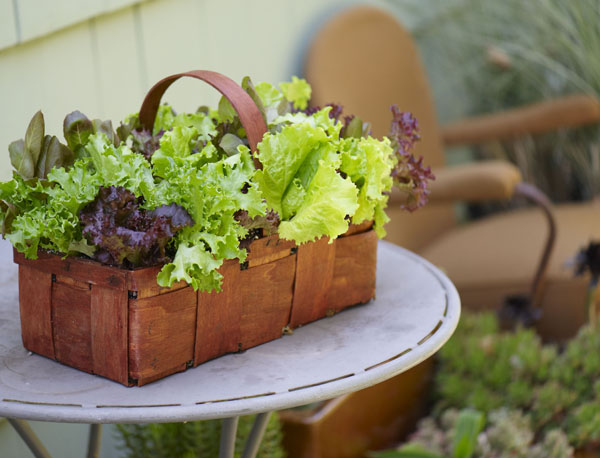 Photo: Eric Staudenmaier
There's no more perfect (or perfectly named) way to celebrate this fall bounty than with Indian Summer Succotash, a recipe from Jimmy Williams and Susan Heeger's From Seed to Skillet (Chronicle; $30). A lifelong vegetable gardener, Williams (with the help of Heeger, a garden writer) was introduced to his passion by way of his grandmother Eloise, a South Carolina native. Her teachings pepper the book, from the gardening techniques to the recipes, many of which come from the traditional Gullah (people descended from Caribbean slaves) community in which she grew up. Williams' advice manages to be both thorough (how to create a worm bin, the proper way to save eggplant seeds) and deeply personal as he shares stories of his childhood on Long Island and recounts the creation of his Los Angeles garden.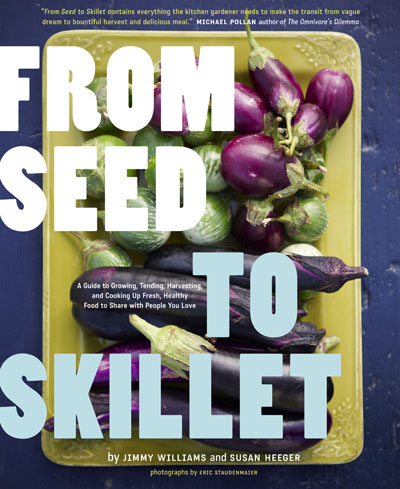 The succotash, which works well as a main course over rice or on its own as a lighter dish, represents both the Native American tradition of Williams' Long Island hometown as well as his grandmother's Gullah heritage. He encourages readers to mix it up, throwing in their favorites and using what's on hand. Happy (faux) fall!
INDIAN SUMMER SUCCOTASH
Adapted from From Seed to Skillet
Serves 8
2 tablespoons unsalted butter
5 medium yellow onions, chopped
5 large tomatoes, chopped
3 large ears of corn, kernels removed
1 cup fresh lima beans or frozen, thawed lima beans (I didn't have any on hand, so I skipped these and didn't miss them, I don't think.)
1/4 cup water or chicken broth
Salt and freshly ground black pepper
Ground cayenne pepper
1 pound okra, uncut
Melt the butter in a heavy skillet over medium heat and fry the onions until tender and translucent. Add the tomatoes, corn, lima beans, water, and salt, pepper, and cayenne to taste and cook, stirring, for 5 minutes. Add the uncut okra and continue cooking until the vegetables are tender, about 10 minutes more.