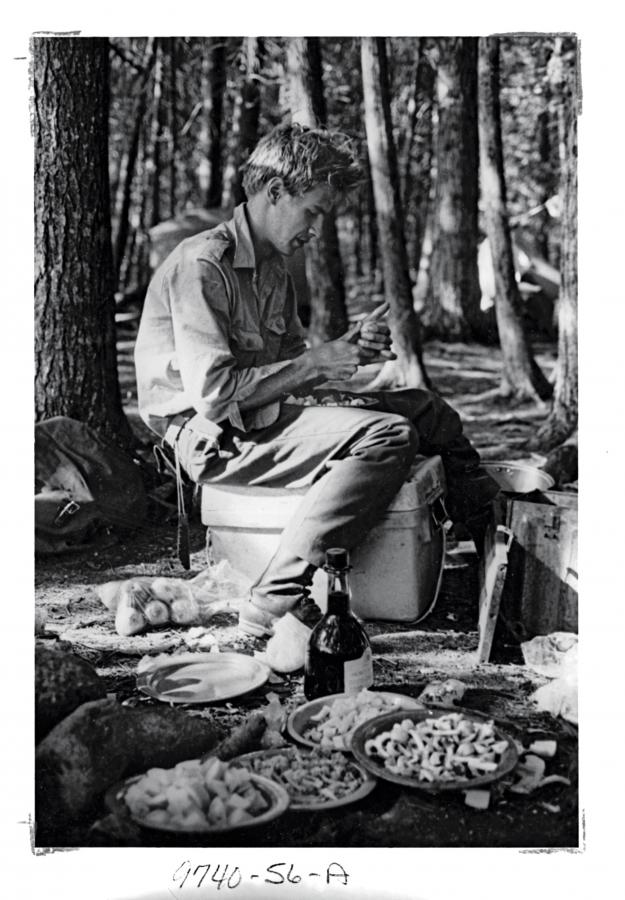 Preparing dinner on the Saint Croix River, in northeastern Maine, 1983.
From 1983 to 1999 I worked intermittently as a river guide for a company that ran canoe expeditions in Maine, Texas, and Canada.
I learned a lot about the outdoors in those years—plant names, weather patterns, geology—but mostly I learned how to throw a dinner party. That's because even in—make that especially in—the most remote wilderness, where you eat and how you eat can make or break the experience.
I traveled with some of the best guides in the business, people who knew how to choose and set up campsites to maximize everyone's comfort and enjoyment. In the dense woods of Maine, we looked for stands of white pine, which offered shade, and dry, open ground. In Newfoundland, we clambered up high banks and made camp next to bushes laden with wild blueberries, which we ate with sweetened condensed milk for dessert and in pancakes for breakfast. And on the treeless terrain of Baffin Island, in Nunavut Territory, we staked our tents in a straight line with the kitchen at one end, so if a polar bear happened to wander in, it wouldn't have to run through a circle of people to get away. (Good outdoor design on that trip also included a 12-gauge shotgun loaded with alternating cartridges of buckshot and buck bullet.)
A lot of thought went into what the group wanted to do. For a crew of fishermen, say, we'd camp below a rapid or next to a spring so they could cast flies into the eddies. But we also concentrated on entertaining basics: Provide shelter from sun and wind. Serve dinner early enough for everyone to have time afterward to linger and enjoy the view. Set up food and drinks in a central place so it's easy to help yourself to seconds.
This issue of garden design focuses on how to create the perfect spaces for outdoor entertaining, and what I love most about the experts we spoke to is how naturally they arrive at their various approaches and how—just like the river guides I worked with—they know how to read what people want.
After wandering through Cheri and Naren Shankar's home in Beverly Hills, landscape designer Judy Kameon helped the couple transform their perfectly nice but perfectly bland garden into something completely original where they now regularly host parties ("Open Invitation" ). Matthew Brown spent a week at Tom Kuntz and Jenny Rask's house in Los Angeles before embarking on a makeover of their outdoor space that has become a family paradise ("The Path Less Taken"). And the eminent designer Terence Conran describes a routine for dinner parties at his country home near London that is doable even for those of us who don't happen to have a furniture and restaurant empire at our fingertips ("The Good Host").