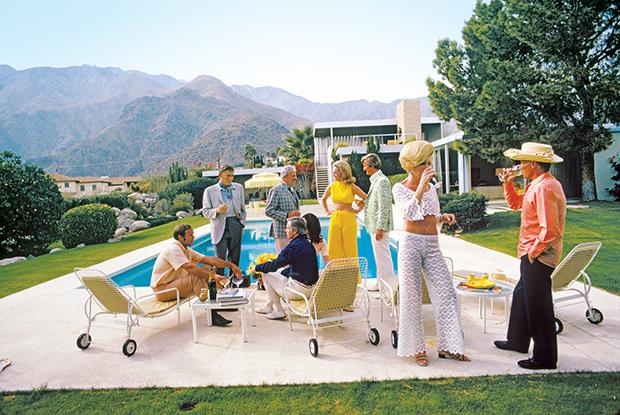 Photo by:
Slim Aarons/Hulton Archive/Getty Images
Photographer Slim Aarons once said he shot "attractive people doing attractive things in attractive places," which — as with this 1970 Palm Springs, California, party — often included gardens.
It's taken me a long time to embrace the idea that my terrace in downtown Manhattan could make a good spot for something other than plant hoarding. For the past 10 years, plants have come and gone, from tree peonies, thorny roses, and viburnum to tropicals like tibouchina and brugmansia. The plants were purchased, rescued, and gifted; the only limitation was whether I could manage to haul them up to the 11th floor. It never occurred to me this was a good place to hang out. Friends would come by and — seeing the terrace is larger than my apartment — express disbelief that I hadn't graced it with so much as a single folding chair.
The truth is, I never considered it a place to relax. It was my laboratory to watch and experiment with what has been an obsession for several decades, and containers made from various materials overflowed with flourishing and not-so-flourishing plants.
Finally, this spring, my boyfriend (a furniture designer of more minimalist leanings than I) decided it was time to exorcise the ruined "Miss Havisham" look of my precious outdoor holdings.
First, he built beautiful containers of marine-grade plywood, cedar, and steel. We stained them a shade of black that serves as a great foil for the foliage and blooms. Next, I somewhat ruthlessly culled my collection down to low-maintenance and mostly evergreen plants for year-round interest, with spaces for herbs and seasonal accents. No pot was allowed to stay that wasn't beautiful or useful. I splurged on a long-coveted Belgian planter from Atelier Vierkant that is both sculptural and beautiful. My boyfriend also constructed a bench and table, which I augmented with two chairs and a chaise. Cushions were ordered. An awning was installed.
At the 11th hour, a country place upstate entered the equation, so those prized plants that had faithfully soldiered on through the harsh conditions could finally be released to the wilds.
As a result of these changes, I'm making plans to entertain. I'm also working new muscles of restraint at the nurseries I still addictively frequent. My friends (in particular a downstairs neighbor who was found napping on the new chaise under the buddleia) are embracing the transformation.
I found a balance in my city garden, and I like it. So often the plant-obsessed forget to extend the magic they created into social experiences, using those carefully cultivated spaces for eating, playing, and lounging in addition to growing cool specimens.
For this issue, we focused on inspiring you with beautiful design ideas that will get you thinking, we hope, about using your outdoor space and about the pleasures that come not just from cultivating but from keeping company.

This article was first published in Garden Design
June 2012