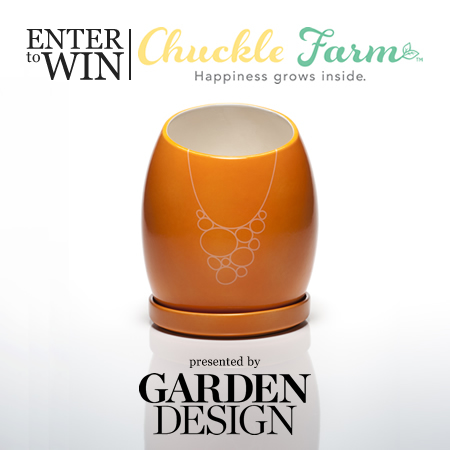 Between October 18th – 21st, enter to win a Tangerine Toddy Planter from Chuckle Farm. A fun pop of color with a touch of feminine charm, this ceramic planter is a "focal plant" waiting to happen. Both planter and saucer are washed in a vibrant exterior glaze, with a contrasting white for the pot's interior. The necklace artwork is applied by hand before firing, making it permanently adhered. Both the planter and its saucer are cast with 1/8" foot-rings—raised edges around the bottom— to provide separation of planter from saucer, and saucer from tabletop. Value: $120
How the winner will be selected:From all valid entries received, one (1) random winner will be selected using a random number generator.
More on Chuckle Farm:
Chuckle Farm is an artisan studio producing high-end, indoor garden accessories infused with a playful spirit and a modern aesthetic.
Conceived by Alison McPherson, an interior designer turned product developer with a love for horticulture, Chuckle Farm's ceramic planters and planter accents are designed to complement the sculptural splendor of plants, nature's living art.
Chuckle Farm's belief is nature's botanical beauties deserve focal-point status in interior spaces, and their mission is to provide a worthy vessel. To elicit a smile. And to share the joy of living with nature on an intimate scale.
Can't wait to see if you're the winner? Purchase this planter today here: http://www.chucklefarm.com/products/tangerine-toddy-planter
Garden Design General Contest Rules
Garden Design contests are open to U.S. residents that are 18 years of age or older with a valid e-mail address. One (1) entry per email per contest unless otherwise stated will be accepted. One winner per household every 60 days.
Prizes are non-transferable and winner must provide a valid U.S. shipping address in order to receive any prizes. Garden Design is not responsible for any package that does not arrive to any provided shipping address. The winner will be contacted by Garden Design via email within 5 business days of the contest end. The winner will then have 7 calendar days to respond with a valid U.S. shipping address. Failure to respond to Garden Design will result in the prize being forfeit and gives Garden Design the right to select a new winner from the pool of entries. Garden Design reserves the right to switch out any prize at any time. If there is a problem beyond our control, Garden Design will not be at fault. If there is a dispute regarding a prize, the decision of Garden Design will be final.
Any person winning over $600 in prizes from Garden Design will receive an IRS form 1099 at the end of the calendar year and a copy of such form will be filed with the IRS.
For any Facebook related contests, Facebook is neither related nor responsible for any of the contests. Failure for Facebook or www.gardendesign.com to load or link to a contest page on your device resulting in the inability to participate will not be the responsibility of Garden Design, Facebook or any other party involved in the contest.
As a winner, Garden Design may use the winners' first name, city and state to congratulate on Garden Design social media including Facebook, Twitter, Google+, Pinterest and Instagram.
No purchase is necessary to enter a Garden Design contest.
By entering to win, you agree to all Garden Design contest rules.
Enter to Win
In addition to the Garden Design general contest rules, these rules apply for Enter to Win contests.
To enter the contest, you will need to provide a valid email address, US zip code and your name. On the contest entry page, there is an option to also subscribe to Garden Design's newsletter, which is emailed out on the second and fourth Thursday of each month. You do not need to subscribe in order to be entered to win for this contest.
On the above mentioned contest start date at 9:00am Pacific Standard Time, Garden Design will post a link on www.gardendesign.com to enter to win the stated prize.
On the above mentioned contest end date at 9:00am Pacific Standard Time, the contest will end. Any entries received after this time will not be entered into the contest even if the link is still active on the Garden Design website. From all valid entries received, one (1) random winner will be selected.