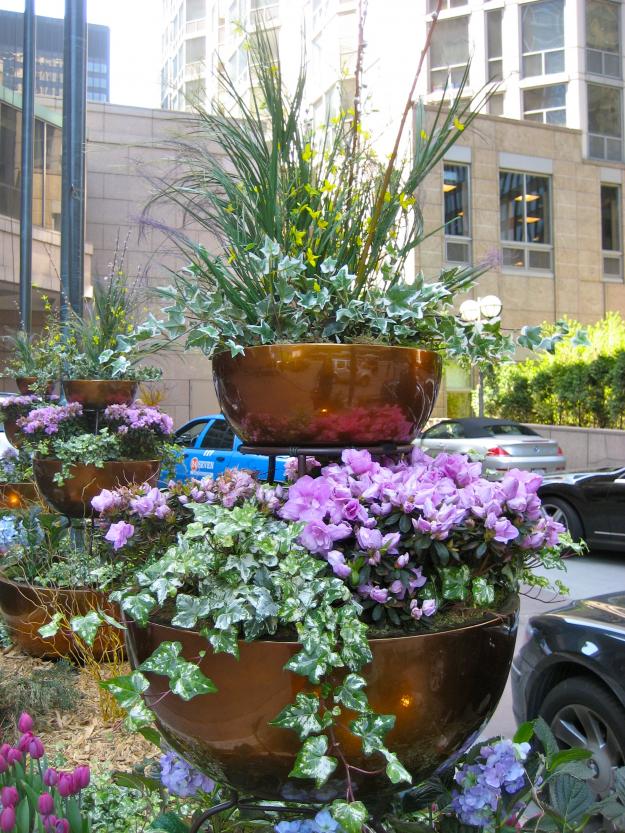 Photo by:
Shirley Bovshow, "Eden Maker"
These gorgeous, three-tier container gardens were spotted in front of the Fairmont Chicago Hotel where I stayed last week.
I almost didn't notice them as I scurried out of the taxi. At the time, my goal was to stay alive as I made my way to the hotel lobby.
It was rush hour and the all-day convention attendees at the hotel were creating a human gridlock as they congregated near the taxis and I couldn't see where I was going.
I was pushed into a sea of people and almost fell, but as I straightened myself up, I noticed something very beautiful that made up for the negative energy in the air.
Lust at First Sight!
The copper pots caught my attention first and then I noticed how dynamic the garden arrangement was in general.
Not only are the pots a feature in this landscape, but the "understory" planting of bulbs and annuals all work together for this spectacular vignette!
Please continue reading at my blog, Eden Makers.