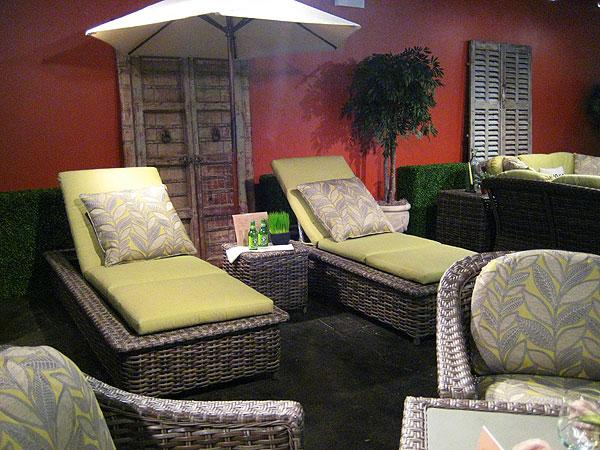 Photo by:
courtesy Gina B. Wicker
One of the most exciting things I do each year is visit the Casual Furniture Pre-Market to get a glimpse at how our wonderful furniture manufacturing customers have incorporated new Sunbrella fabrics into their furniture designs. I continue to be impressed with the innovation and fashion savvy shown on the show floor each July.
From the clean lines of contemporary teak frames to the homespun look of traditional woven frames, there is something for everyone at this show. Moving from warm browns toward a livable grey, several manufacturers including Gloster and Lane Venture introduced sophisticated new frames in driftwood tones. This year's greys are a little warmer, and they partner perfectly with plum, linden green, gold and even toned-down oranges.
Many of our customers work directly with the Sunbrella design team to develop exclusive fabric designs to set their collections apart. Summer Classics made a statement with a whimsical new peacock pattern in shades of rich blues and greens on a vellum ground as well as a wide stripe in a modern charcoal grey and gold color palette.
You can always find beautiful reds in the Lane Venture showroom, and this year was no exception. Among their red groups was a poppy pattern with an Asian feel showcased on an inviting round chaise. They also contributed to the driftwood trend with a gorgeous new woven collection with exposed wood legs. This frame color was especially striking with their choice of the new leaf pattern, Renewal Linden and a solid Linden coordinate.
North Cape International had a showroom full of beautiful introductions including a daybed draped in Sunbrella sheer fabrics and a seating group showcasing a solid plum fabric in combination with a delicate plum paisley on a vellum ground.
Gloster combined the driftwood frame and plum fabric trends into a show-stopping conversation group with an oversized ottoman and swivel chairs. They presented these same fabrics on a warmer brown woven wicker dining group and curved back sofa.
Treasure Garden also addressed the plum trend with an umbrella canopy combining a small scale window pane plaid, McGuire, with solid plum border and top vent. They also created an innovative display showcasing small scale versions of their Shanghai umbrella using Sunbrella Dupione which gave the illusion of pleated paper.
This is just a glimpse of what we can expect to see in patio shops and furniture stores for 2011. Even more beautiful creations are sure to be unveiled at the Casual Furniture Market in September.