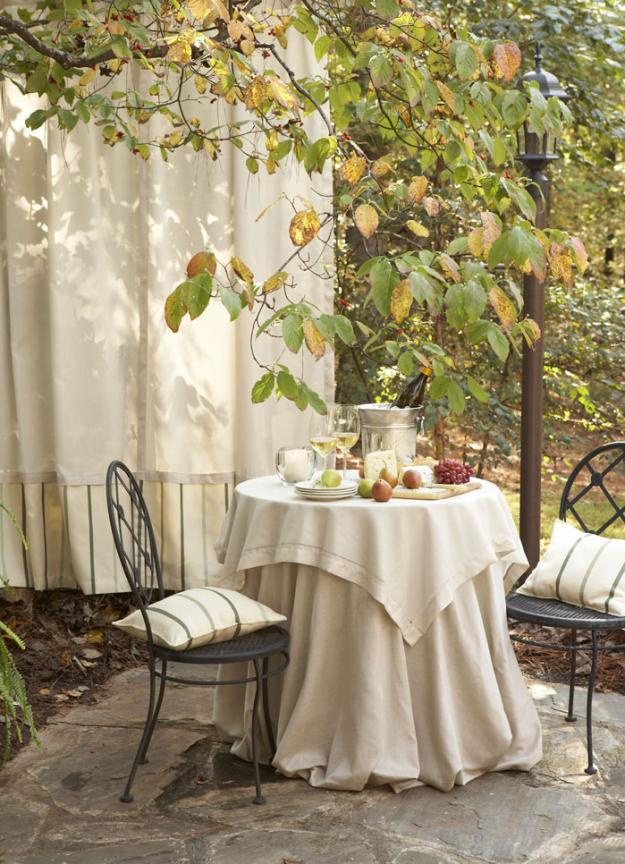 Photo by:
courtesy of Sunbrella
In the same way beautiful fabrics define your interior spaces, they also can set your outdoor project apart. When you're looking for just the right splash of color to brighten a shady, foliage-filled area, consider a non-plant alternative: Add a small chair, bench or some other seating surface and then accessorize it with an array of decorative outdoor pillows or throws.
As Jacque Hranica, of jaqlene.com illustrates in the image above, you can create boundaries and a sense of privacy for your outdoor dining room with the addition of sheer or drapery panels. Coordinating table linens, cushions and pillows in easy-to-clean Sunbrella fabric complete the room. You don't necessarily have to invest in new furniture for every alcove in your outdoor living space. Adding fabrics can make even old garden furniture seem new again.
Bring softness to hardscaped areas with cushions and throw pillows. Consider light colors to brighten the area. Define nooks for private seating and intimate dining using beautiful fabrics. Providing a chaise near your dining area allows the book-worm in your family to be close by and at the same time in their own private world as you enjoy your morning coffee. And with Sunbrella fabrics, there's no need to worry about cleanability.
As you decorate interior rooms with views of the great outdoors, use color and texture to tie your interior and outdoor spaces together. Draw the outdoors in by using fabrics with a touch of green for lush leafy landscapes or pinks, yellows and oranges to coordinate with flowering plants. Make sure that the patterns and colors used in your garden area work with those inside to create a sense of continuity.
With the wide variety of beautiful, durable Sunbrella fabrics that are available today, you can find the perfect pattern and color combination to suit your personal style … even if it changes with the season. For more tips and up-to-date information, visit the Sunbrella Facebook and Twitter pages.