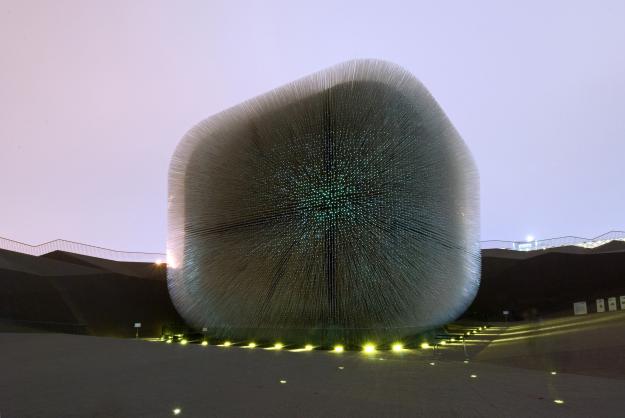 photo: RBG Kew
Have you seen the amazing Seed Cathedral that served as the British pavilion at the 2010 World Expo in Shanghai? It closed on October 31, after running for six months, and became one of the most popular exhibits at the Expo.
Designed by Thomas Heatherwick, the Seed Cathedral was designed to help promote the U.K.'s role in conservation, particularly the country's Millennium Seed Bank. The Millennium Seed Bank is run by the Royal Botanic Gardens and works with more than 50 countries to bank seeds from around the world, and currently, it has banked 10% of the world's wild plant species and plans to bank a total of 25% by 2020.
photo: RBG Kew
The Cathedral, which was made up of 60,000 slender transparent rods, each encasing one or more seeds at the tip, with seeds from Germplasm Bank of Wild Species, Kunming Institute of Botany, and the Chinese Academy of Sciences in China. The resulting glowing structure was a subtle nod to London's famous Crystal Palace that was built for the Great Exhibition in 1851 and drew tens of thousands of visitors during the course of the exhibit. The Seed Cathedral was surrounded by flowers and plants from Kew Gardens and offered a vision of the Expo's theme, Better City, Better Life, without using computer screens or television displays. Instead, the Seed Cathedral was a visually stunning homage to the past and future of life today, surrounding visitors with undulating, glowing seeds.
Are you interested in helping with the Millennium Seed Bank Project? Read more about how Kew's Millennium Seed Bank is working here in the United States.