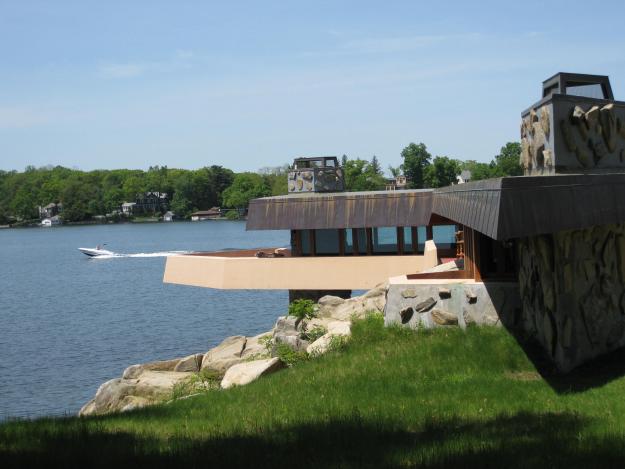 Photo by:
courtesy of Parters with PARC
If I could be in New York next week, I would definitely plan to spend Saturday, June 12 in the Hudson Valley, touring the iconic region's gardens as part of the annual Secret Garden Tour. The day-long event, whose proceeds support Partners with PARC, is a self-guided driving tour to the best and most beautiful private gardens in Putnam County, just one hour from New York City and centrally located to the entire tri-state area and Hudson Valley. I especially wouldn't miss a chance to tour the spectacular and renowned Frank Lloyd Wright-designed house on Petra Island on Lake Mahopac, NY. The home, built by the Massaro Family, is believed to the be last known house in the United States built on the exact location and with the plans for which Wright intended and designed it.
If you're lucky enough to be able to go, here's what you can expect: This country driving tour will bring you to private homes and renowned sites with formal gardens, perennial flowering landscapes, pastoral fields and vistas, gorgeous roses, water gardens, and herb and flowering vegetable gardens throughout Putnam County. Once you arrive at the garden destinations, home owners will guide you through their landscapes, telling the history of the gardens and answering questions about plantings and designs. And don't miss the stunning Stonecrop Gardens in Cold Spring and its 63 acres of alpine gardens, bog garden, woodland and water gardens, cliff rock garden and an enclosed English-style flower garden.
Gardens will be open in Mahopac, Kent, Carmel, Garrison & Cold Spring from 10 a.m. to 4 p.m. with special events and activities taking place throughout the day, including an expanded Cold Spring Farmers' Market with sales of annuals and perennials. This is a rain or shine event. Advance ticket prices are $90 for the Frank Lloyd Wright house tour and all gardens or $30 for garden only. Only 100 tickets to the Frank Lloyd Wright house tour will be sold. All proceeds go to support adults and children with developmental disabilities in Putnam County.
Order advance tickets online (at PutnamSecretGardenTour.com) or call 845-278-7272, ext. 287. All major credit cards are accepted.