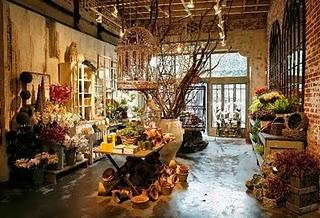 Photo by:
Courtesy Rolling Greens
Rolling Greens looks and feels like one of those elegant places you feel giddy to discover in Paris or London – part mossy-scented flower shop, part eclectic antique shop. Over-sized bird cages hang at different levels from a floor-to-ceiling branch installation. Large-scale lighting made from found objects – semi-industrial materials like metal mesh and salvaged wire baskets with linen shades – fill the high ceilings. One wall display is made with cross-sections of twigs and branches, installed as a woody mosaic. There are even a few vintage chandeliers to add sparkle to the rustic interior. Expect home and garden items that please the eye, and displays that emulate room-like settings in some corners and artful tableaux in other areas.
Read about the party and see photos of the store at shedstyle.com.