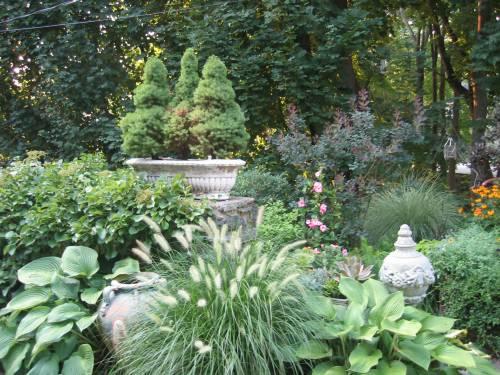 The all-time top garden post on my blog, casaCARA, is an illustrated walk around the Westchester County, N.Y. garden of Mary-Liz Campbell, a professional garden designer. It's a challenging site: wedge-shaped, steeply sloping, and not quite one-eighth of an acre.
When Mary-Liz bought the house 13 years ago, there was nothing but a few sad foundation plantings. Today, the house is surrounded by exuberant perennial beds, shade gardens, a peaceful dining patio, attractive storage sheds, and garden ornaments reflecting time spent in the Far East.
It hasn't been easy. "When I first started started fooling around in the garden, nothing would grow. The soil was shallow and plants couldn't anchor themselves," she recalls – so she brought in 18 yards of top soil.
"Then I went to Italy and decided the only way I could make this lot work was to terrace it" – so she found masons and gradually, as finances permitted, built stone terraces for garden beds, then planted shrubs and perennials in the newly terraced areas.
Since then, the garden has evolved with changing conditions...
To read all about it and see many more pictures, click right here, and enjoy.