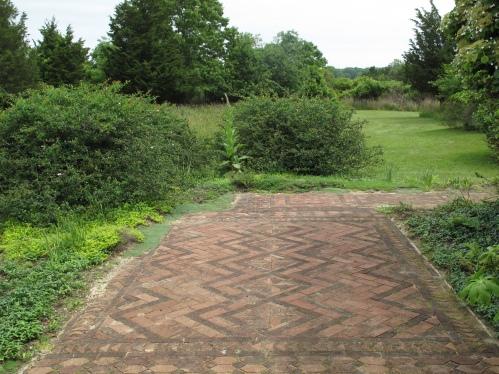 Like so many people in Springs, N.Y. (the most famous past resident being Jackson Pollock), Margaret Kerr is an artist. Originally a painter, she crossed over to brick as a medium after designing and building her garden in the 1980s. Its most unique element are the brick 'prayer rugs,' inspired by Middle Eastern tribal carpets, that dot the two-acre property (Marggy's daughter got married on one). Some indicate areas for contemplation; others form decorative paths or patios.
Near the house, in a fenced courtyard with a lily pool and espaliered pear trees, a perennial garden focuses on plants that grew in medieval times. Beyond, mown paths lead through meadows to Accabonac Harbor.
You can visit Marggy's garden and studio on Saturday, June 26, as part of the Garden Conservancy's Open Days program.
To read more about it and see more pictures, please click on casaCARA.