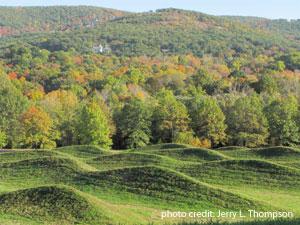 Photo by:
Jerry L. Thompson
Artist and architect Maya Lin has now installed works of environmental art from sea to shining sea, having recently completed another segment of her Confluence Project in the Pacific Northwest (see the July/Aug issue of Garden Design) and her latest piece, Storm King Wavefield, which was launched in May at the Storm King Art Center in Mountainville, New York.
Perhaps best known for designing the Vietnam Veterans Memorial in Washington, D.C., which she completed in 1982 at the age of 22, Lin has since become renowned worldwide for her sculpture, earthworks and public-space designs, including site-specific works at the U.S. embassy in Beijing, the California Academy of Sciences in San Francisco and the Wexner Center for the Arts in Columbus, Ohio.
Storm King Wavefield joins two other wavefields by Lin: The Wave Field at the University of Michigan in Ann Arbor, and Flutter in Miami. All three in the triad are based on the patterns that different types of waves exhibit, or formations in beach sand that waves create. The 4-acre Storm King piece is Lin's largest site-specific earthwork so far, sited on an 11-acre former gravel pit. In it, seven meticulously sculpted rows of undulating hills extend more than 300 feet and stand 10 to 15 feet high, creating a mini ocean of swells and troughs, swathed in green grass.
Also an environmentalist, Lin was sensitive to the natural surroundings during the creation of the Storm King work, using gravel from the location as the base for the waves, then adding a layer of topsoil and covering the entire piece with low-maintenance grasses, including creeping red fescue, deertongue grass, Canada bluegrass and sideoats grama. Native trees are slated to be planted around the periphery to counterbalance the carbon footprint generated during the building of the earthwork.
Storm King Art Center welcomes this addition to its already outstanding post-World War II sculpture collection, which is located throughout its 500-acre landscape of forest, field and rolling hills. To highlight the opening of Lin's new work, an exhibition about Lin's fascination with water, entitled Maya Lin: Bodies of Water, is on display in the museum building through Nov. 15.
For more information on Storm King Art Center, visit stormking.org.
For more information on Maya Lin, visit mayalin.com.
Maya Lin
Storm King Wavefield, 2007-2008
Earth and grass
240,000 square feet (11 acre site)
Storm King Art Center, Mountainville, New York