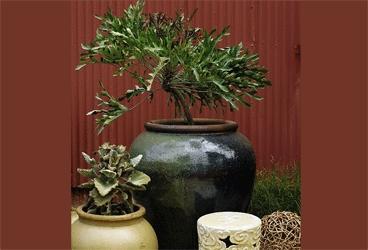 Flora Grubb has done it again. If her Guerrero Street Gardens in San Francisco put her on the map as California's horticultural fashionista, drawing the city's best landscape designers to her door, her newest venture, Flora Grubb Gardens in San Francisco's up-and-coming Bayview, just east of downtown, announces the new age of the urban nursery — and raises the bar for garden centers everywhere.
Flora's secret: She offers hard-to-find designer favorites to the public. To that end, she scours the countryside for small growers specializing in the rare and unusual, and offers Bay Area residents plants of all varieties, from palms to members of the Proteaceae, to as many acacias and agaves as you can name. No rows of six packs here — the grounds are laid out like a garden with rambling paths and displays of ever-changing combinations.
Set into an edgy, contemporary 8,000-square-foot warehouse made from prefabricated metal and recycled barn wood, the wide open, solar-powered space gets high marks for sustainability, while offering everything from the hottest outdoor furniture to fire pits, outdoor bathtubs (Flora's answer to the hot tub), books, containers, sculpture, the latest in unusual houseplants and even drinks at a state-of-the-art coffee bar. With display carts set on wheels, it will be easy to move them aside for the speaker series Flora plans for the fall. I only wish I could have been there for the May 12 opening party. For more information call 415-648-2670 or see floragrubb.com.