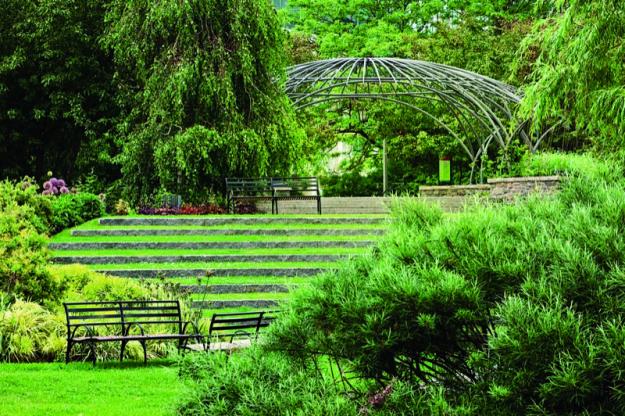 How does a city reverse the centrifugal force that sends its citizens spinning outward, away from the concrete jungle to the solace of the suburbs? For Toronto, a pivotal factor for drawing them back in and transforming them into enthusiastic urbanites is the creation of green spaces. And it seems to be working. Over the past 30 years, as the acreage of public parks has continued to stretch across the city, the population of downtown dwellers has bulked up by 65 percent.
Toronto is particularly proud of its waterfront transformation. As with many cities, what initiated settlement — a beautiful and accessible shoreline on Lake Ontario — eventually became an industrialized mess, unappealing (and unsafe) for casual strolling or playtime with the kids. Beginning in the 1970s, a wave of waterfront revitalization envisioned plans to replace derelict docks and eyesore parking lots with a citizen-friendly landscape of places to live, shop and, of course, play. The federal government even created a special organization to rejuvenate the city's shore and by 1991, the charitable, nonprofit Habourfront Centre was organizing public arts events on its 10-acre site. Today, that area has become a nexus for cultural activities.
In 1997, ground was broken on a garden that Leslie Coates, manager of waterfront parks and special projects for the city's Parks, Forestry & Recreation, refers to as a "catalyst." The Music Garden — the brainchild of landscape designer and author Julie Moir Messervy and renowned cellist Yo-Yo Ma — had been in need of a home since a failed attempt to build one in Boston. A 2.5-acre sliver of Toronto lakeshore had been earmarked for a park with funds committed by the city, but more was needed. Miraculously, a donor appeared backstage after a concert by Mr. Ma and the Toronto Symphony Orchestra (Messervy refers to him as "the angel in the green room"). As Messervy remembers, "When we got to Toronto, there were a few things along the waterfront, like some passive park areas, but it was patchy and the landscapes were not fully developed." The garden has just passed its 10-year anniversary, prompting a book by Messervy, The Toronto Music Garden: Inspired by Bach.
The Toronto Music Garden set the bar high for subsequent waterfront parks, with its intricate interplay of musical themes (it's based on Bach's "Unaccompanied Cello Suite No. 1"), horticulture and interstitial spaces, some intimate and some communal. And Toronto has taken up the baton. Not satisfied with rows of trees and jungle gyms typical of uninspired park sites, design competitions for public spaces have landed on top-drawer architects, landscape architects and artists, including Michael Van Valkenburgh, Field Operations, Claude Cormier, West 8 and Janet Rosenberg.
Just east of the Music Garden, Rosenberg and Cormier's HTO Park, completed in 2007, dramatically proves a point made by Coates that public spaces benefit by being different. In contrast to Messervy's spilling-over-the-path lushness, HTO is a stylization of dunes and beach (Rosenberg calls it the "urban beach"), complete with stationary yellow umbrellas that pull double duty as outdoor art. Says Rosenberg: "People's lifestyles are changing, and it's critical that their park spaces change too. A typical park is an English reproduction of a formal garden, but we no longer have sweeping lawns." Instead, she prefers a model for contemporary parks based on the European town square, which is a "nucleus of life."
Rosenberg explains the inspiration for HTO: "Toronto had turned its back to the waterfront and moved north. With this park, I wanted to establish a new language and chemistry between people and the water." The dunes that initially obscure the umbrellas enhance the surprise of finding a sandy beach in downtown Toronto. As a "cap" on the site, they were also a way to avoid digging down to potentially toxic soil, given the waterfront's industrial history.
Since 2001, management of the central waterfront has been accomplished by a clever interface of private enterprise and civic jurisdiction. Waterfront Toronto — a private organization with a board of directors — handles the development of the property (totaling some 2,000 acres, the largest urban development program in North America), though the city of Toronto ultimately holds the titles and operates public spaces. Three levels of government — city, provincial and national — contributed a grand (very grand) total of $1.5 billion in seed capital, a boon most cities can only dream of. John Campbell, CEO of WT, calls it a "watershed moment." So with plenty of acreage and a sizeable budget, WT has pursued its charge with gusto. After years of planning and gathering community input, it can now implement several new projects.
Opening this summer are Canada's Sugar Beach, designed by Claude Cormier, which repeats the umbrellas theme of his HTO Park, and Sherbourne Park, designed by Vancouver-based Phillips Farevaag Smallenberg landscape architecture firm. For Sherbourne, the design team integrated storm-water management and purification, even incorporating sculpture ("Light Showers" by artist Jill Anholt). The park's pavilion is expected to be LEED Gold certified.
This attention to environmental issues is another thread in the waterfront park system, notable also in Harbour Square Park and Spadina Quay Wetland. Another area, the Lower Don Lands, is one of more than a dozen founding projects in the Climate Positive Development Program, associated with the former president's Clinton Climate Initiative and the U.S. Green Building Council.
Waterfront Toronto has made strides in stitching the necklace of parks together, and making them and the lake more accessible. Designed by landscape architecture firms West 8 from the Netherlands and Toronto-based DTAH, a master plan includes footbridges, a promenade, and four "wavedecks," three of which have been completed. Though the project has generated controversy (do the walkways interrupt or enhance views of the lake?), WT's goal is connectivity and to eliminate you-can't-get-there-from-here frustrations.
In some cities, such prime lakefront property would be choked by scenery-blocking, not-public-friendly condos and hotels. But Toronto takes its commitment to enhancing the urban environment seriously. In fact WT allots 25 percent of its acreage to waterfront public spaces. As WT's Campbell says: "Most waterfronts focus on a real-estate economy, but Toronto plays the long game, building communities. We're out to change the North American model. After all, a great city is known by its public realm." A view echoed by Rosenberg: "The future is about the spaces between the buildings."
Related: Toronto's Garden Parks