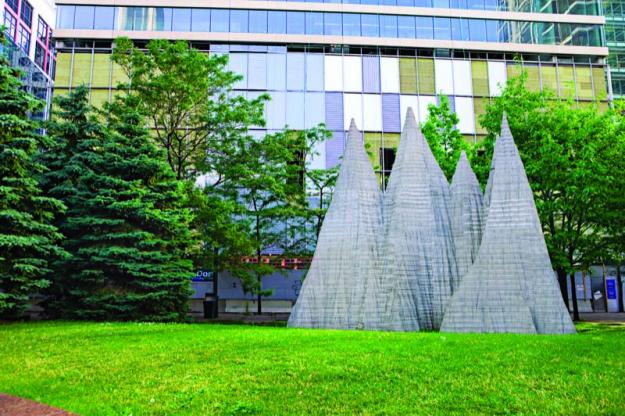 Toronto's push for urban green space is not limited to the lakeshore. Throughout the city, small public parks can be found tucked among high rises, shopping centers and condominiums, often housing works of outdoor art. With designs by some of the most noted architects, landscape architects and artists, most of the spaces are part of an extensive Parks, Forestry & Recreation network. It's rare to see any of these locations vacant — it seems there is always someone reading a book, playing with a dog or taking a brown-bag break. Below are just a few examples.
Simcoe Park: This one-acre space is situated beside Simcoe Place, where the seat of the Parliament of Upper Canada was once located and named for John Graves Simcoe, the founding father of Toronto, and his wife. The park includes several public art pieces, including the aluminum "untitled (mountain)" by Anish Kapoor (pictured), who also designed the "Cloud Gate" sculpture in Chicago's Millennium Park.
Village of Yorkville Park:

Locals began clamoring for a park on this site beginning in the 1950s, when its Victorian row houses were demolished for subway construction. They got their wish in 1991, when a design competition awarded the project to landscape architects Martha Schwartz, Ken Smith and David Meyer, and Oleson Worland Architects. A series of garden rooms is arranged on the lot lines of the row houses. In 1996 it won the President's Award of Excellence from ASLA.

CourtHouse Square:

Designed by Janet Rosenberg, this award-winning city park adjacent to the former York County Courthouse was previously just a vacant lot, which belied its colorful history — public hangings were held there in the 1800s. Though the park has a modern look, Rosenberg imbued it with historical overtones. Near the center is a black-granite stage for intimate performances.

Toronto-Dominion Centre: A seven-acre site designed by architect Ludwig Mies Van der Rohe (the first building opened in 1967), the TD Centre was envisioned as a model urban complex. To counteract the "canyon" effect, Van der Rohe set the buildings back from the street and created a public plaza. Peacefully parked under the trees is "The Pasture," a grouping of seven bronze cows by sculptor Joe Fafard.
Related: Toronto's Waterfront Gardens